A young mother has had 101 names tattooed on her arm to raise funds for a hospice.
The mum-of-two from Gorseinon, South Wales, included the name of her baby sister Natasha – who died at five days old.
And other names include those of seven children who passed away and of a stillborn baby named Megan.
Jess said: "Her mother lost her daughter, who was stillborn in 2002. She said she misses her daughter every second of the day – and the tattoo proves she was somebody."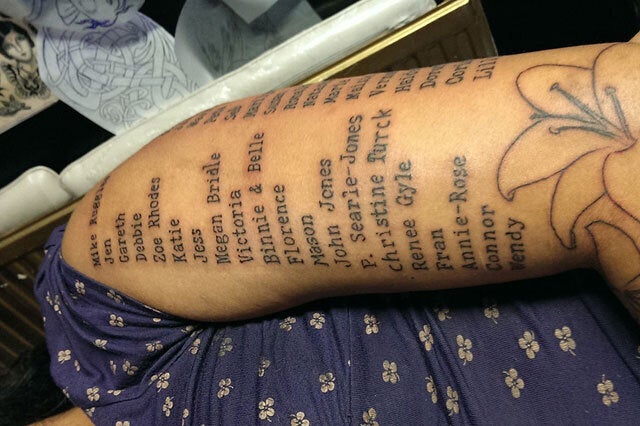 Jess raised £611 and then spent seven hours in a tattoo parlour to have the artwork done.
She said: "The names are not just names - they are the stories of people who are loved and cared about - and a memory of their lives.
"The purpose of the tattoo is to raise as much money as possible for charity but I also want it to be an opportunity to permanently memorialise a loved one that has been lost.
"I wanted to help other people after support from others when I was suffering with depression."
Jess has had names submitted from all over the world.
She said: "A breast cancer survivor in Massachusetts couldn't get a tattoo on her left arm from the effects left from her lymphedema - so she had her name tattooed on mine instead."
Jess, who also has a flower on her arm, said she is happy with the finished work.
She said: "Some of the stories are heart-breaking and I'm terrified of ever getting any cuts or scars on my arm because I'd feel like I was hurting someone's memory.
"I'm so proud to carry these people's memories and stories with me for the rest of my life."