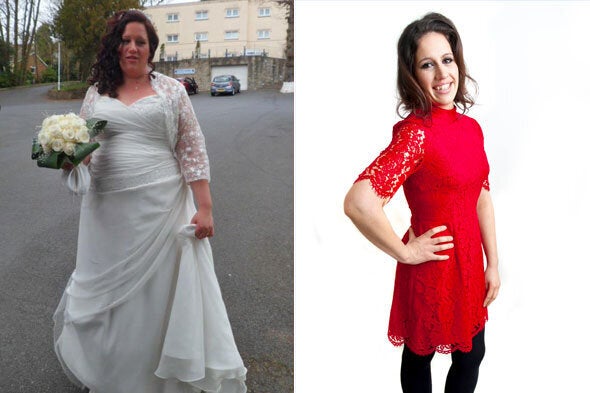 A mum-of-three who had struggled with her weight for more than a decade was motivated to lose 10 stone when her son asked if she was expecting another baby.
Every woman knows how much those words can sting if you are not - in fact - expecting, but are just the victim of an unflattering top, a rather large lunch or an unfortunate pose.
But for Gemma Davies, from Llanelli, South Wales, the comment hit home a little harder than it would for most - as it came from her 10-year-old son.
"I couldn't believe it when my son Matthew asked if I was having another baby," said the 29-year-old mum-of-three.
"I was doing the school run in December 2012, and I was so embarrassed. I knew I was fat but my kids had never said anything about my weight before.
"I told Matthew that mummy's belly was just a bit big - but the words hurt."
Gemma - who is mum to Matthew, 11, Thomas, eight, and Olivia, 18 months, - had spent years convincing herself that she was happy weighing 21 stone. But Matthew's words motivated her and within just 12 months she managed to halve her body weight.
Gemma believes she started to have problems with her weight at the age of 17, when she fell pregnant with Matthew.
Before the pregnancy, 5ft 8 Gemma had weighed just nine stone, but cravings for chocolate and cakes led her to shoot up to 21 stone and a year later she was wearing size 24 clothes.
Soon after, she met her future husband Stuart, 32, and her weight continued to creep up, especially once she fell pregnant with Thomas.
The couple got married in March 2012, whilst Gemma was pregnant with their daughter Olivia. She had slimmed down to a size 20, but she says she felt embarrassed about her body and chose a wedding dress that would hide it under swathes of fabric.
According to Gemma, her typical daily diet consisted of a packet of Skips crisps and a cup of coffee for breakfast, followed by a bacon sandwich or Greggs meat pasty for lunch and a typical dinner would be Chinese crispy chicken, egg fried rice and Coca Cola.
It was only when Matthew seriously questioned her about whether she could be pregnant that Gemma decided it was time to make a change to her lifestyle.
She cleared the cupboards of junk food, binned the take away menus, joined a slimming club and started walking the two mile journey to her local town every day.
She replaced her junk food diet with a breakfast of Weetabix with yoghurt and chopped banana; lunch of omelette with side salad and fruit and grilled chicken with butternut squash wedges for dinner.
"When Matthew asked if I was pregnant it finally dawned on me," she told The Mail. "I signed up to a local slimming club there and then because I wanted to be a mummy that my kids could be proud of."
After just 12 months of healthy eating and daily walks, Gemma has lost 10 stone and dropped to a size 10.
"The boys are proud to see mummy waiting for them at the school gates," she says. "'They give me cuddles and tell me how pretty I look. It was a tough year, but when I look in the mirror I know it was worth it."