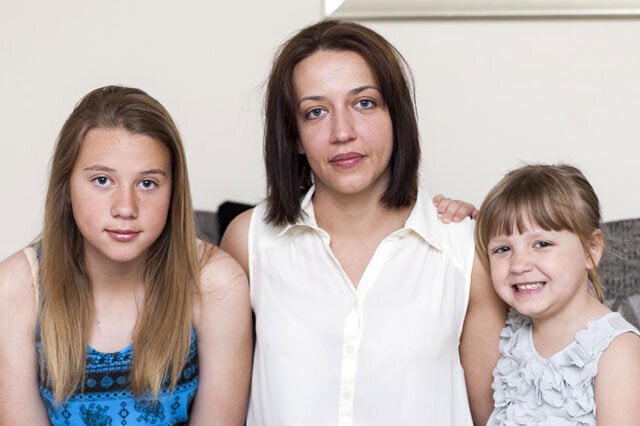 A mum-of-two whose father was a British soldier has been refused a British passport - because her dad isn't named on her birth certificate.
Despite having voted in every election since she was 18, and completed jury service twice, authorities insist that Christine North, 32, is not a British citizen.
Christine was born near an army base in Dortmund, Germany, where her father had been posted. But she has been living in England since she was seven and currently lives in Clacton, Essex.
Christine, who runs a cake-making business, has a four-year-old daughter called Tilly-May with her English husband Stephen, 37, and an older daughter Summer-Luise, 12, from a previous relationship.
She had no idea that she wasn't considered to be a British citizen until she recently applied for a passport to go on holiday to France.
She was shocked when Home Office officials refused her request and warned she had no right to be in the UK.
"As far as I am concerned, I am English," Christine told The Daily Mail. "I was brought up that way and have lived here from a young age.
"When I was told I might not be a British citizen I was dumbfounded. I have been passed from passport information to border control and on to immigration.
"At one point they told me I might be deported. I was scared they would take me away from my family."
Christine believes the problems arose because her English father, Alan Griffiths, split up with her German-born mother, Beate Toepke, around the time she was born and he was not named on her birth certificate due to 'difficulties' between her parents.
Beate went on to marry Kevin Johnson, a Royal Artillery gunner who moved the family to the UK.
Christine has two brothers and a sister, who all have British citizenship because their father was listed on their birth certificates.
A Home Office spokesman said: "Mrs North was born in Germany to a German mother and no named father. As such, she does not have a right to automatic British Citizenship."
The spokesman said Christine had been advised to apply for citizenship through naturalisation, which would include passing a Life in the UK test.
"'It is absolutely ridiculous that I am being told that I should take a citizenship test with questions about Shakespearean plays and kings and queens of old," said Christine.
"I am being made to pay because my biological father was not interested in hanging around."
She is now fighting to get her British passport and her case is being backed by her MP Douglas Carswell who branded the situation 'ludicrous' and 'bizarre'.
She is also calling for a change in the law to avoid similar problems for others in the future.