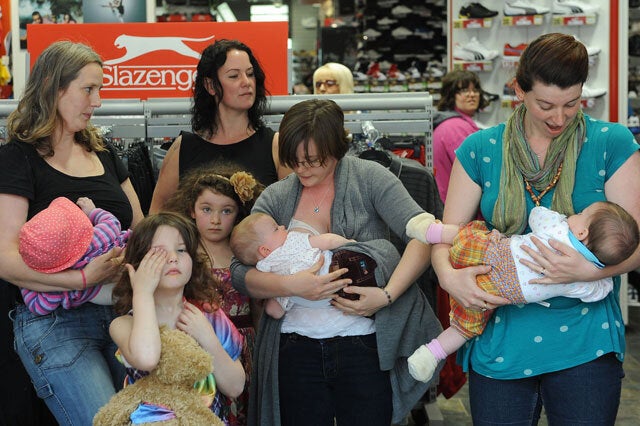 A group of mums has staged a breastfeeding protest at the branch of Sports Direct where a woman who was feeding her baby was asked to leave.
Wioletta Komar, 25, from Boston, Lincolnshire, was sitting on a bench inside the Sports Direct store in Clumber Street feeding her three-month-old son, Daniel, when she says staff told her to stop.
She told reporters that the Sports Direct store assistant said: 'I'm sorry but you will have to go out. You can't feed here. That is our company policy'.
Wioletta was inundated with support on social media, and today a group of mums swung into action, taking part in a breastfeeding protest at the store.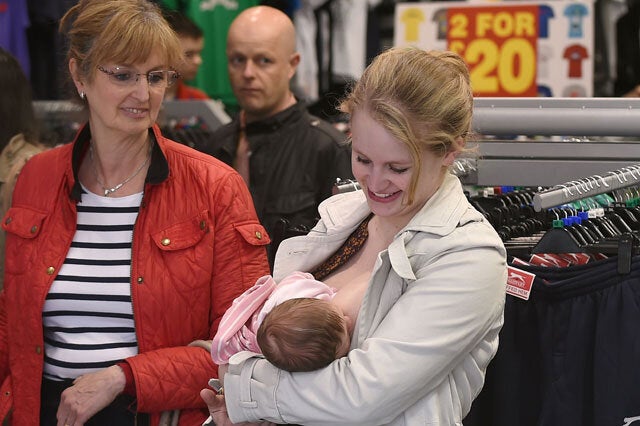 Helen Hughes, one of the organisers, told the Nottingham Post: "It is brilliant and amazing how many people have shown up. We have even had people walking past us today and deciding to join in after they heard what happened."
Another mum, Ali Gale, 31, from Long Eaton, was there with her 13-week-old twins. She said: "I don't think anyone wants to flaunt themselves when they do it, so what is the problem? I think mums should feel comfortable to breastfeed anywhere."
The protest has been supported on social media, with mum-of-two Lily Allen lending her support. She tweeted:
Sports Direct did not want to comment when contacted by Parentdish.