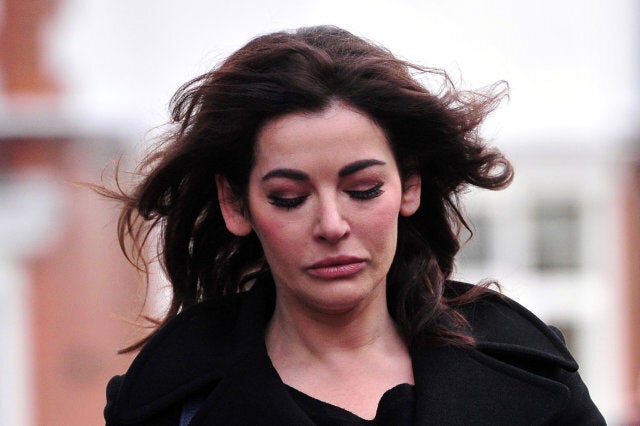 Nigella Lawson has been banned from the US because of her court confession that she took cocaine.
According to a report in the Daily Mail, the 54-year-old Domestic Goddess was stopped from boarding a flight from Heathrow to Los Angeles.
Nigella – mother to Cosima, 20, and Bruno, 17 - arrived alone at Heathrow's Terminal Five on Sunday morning to catch a direct British Airways flight to LA.
The paper believes she checked in and passed security before being told she could not board her plane.
She had to return to the first class check-in to arrange to collect her hold luggage.
An onlooker told the newspaper: "She didn't seem to say much, but she did not look happy. She could not get on the flight so she had to turn around and leave."
The action has huge significance because Nigella has been carving out a career in the States as a judge on the talent show, The Taste. The paper says this could now be in jeopardy.
The ban follows mum-of-two Nigella's confession in court last year that she had snorted cocaine seven times and smoked cannabis in front of her children.
She is thought to have tried to enter the US by registering online for permission to travel and confirming she had not been arrested or convicted of offences including taking illegal drugs.
But the US can also decide to bar foreigners who have committed drugs offences without ever being charged. Would-be travellers can apply to have the ban lifted, but this can take months.
Nigella wrote on Twitter in the early hours of Sunday that she was 'packing for my holiday' – including a picture of a sun hat and some Colman's mustard.
The Mail goes on to report that the specific grounds on which she was barred entry to the US have not been confirmed.
Nigella is now expected to engage lawyers to ensure she can travel freely to America, which she regularly visits for pleasure and for work.
The US Department of Homeland Security's customs and border protection department told the Mail it could not comment on individual cases.
But a spokesman said foreigners who had admitted committing drugs offences in the US or another country were deemed to be 'inadmissible'.
The spokesman added: "In general, an alien found inadmissible will need a waiver of inadmissibility.
"Depending on the basis of their refusal they may be eligible to apply in advance of travel for a temporary waiver of inadmissibility. The waiver application process can be lengthy."
An American immigration lawyer called Steven Heller told the Mail that Nigella's celebrity status may have counted against her.
But he said he was confident she would eventually be able to get a visa to travel to the US, although the process could take some time.
He said: "I'm sure she can get a waiver. The typical wait time is about 20 to 25 weeks but you can get it done in a matter of days. You need to demonstrate a need for it to be handled quickly."
The marriage broke down irrevocably after Mr Saatchi, 70, accepted a caution for assault when newspapers printed pictures of him with his hand around his wife's throat outside Scott's restaurant in Mayfair in June.
Nigella then had to give evidence at the trial of her former housekeepers, Francesca and Elisabetta Grillo, who were accused of stealing hundreds of thousands of pounds from her and Mr Saatchi.
While insisting she had never been an addict or habitual user of drugs, she confirmed she had taken cocaine. She said she needed the drugs to cope with the death of her first husband, John Diamond, and the 'intimate terrorism' of her second, Mr Saatchi.
She also described how she 'smoked the odd joint' of cannabis in the last year of her marriage to Mr Saatchi to make 'an intolerable situation tolerable'.
But she maintained that she was now drug-free, telling the jury: "I did not and do not have a drug problem, I had a life problem. I decided to address that."
A spokesman for Nigella told the Mail: 'We would never comment on Nigella's travel plans."