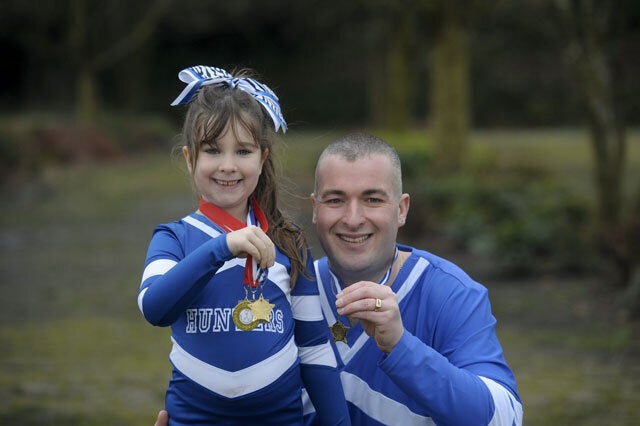 Darren Peacock, 32, has dropped nearly a fifth of his body weight since joining his seven-year-old daughter Amy Jorja's cheerleading team.
The 6ft 2in father-of-two weighed 17 and a half stone when Amy's cheerleading coach first 'dragged him onto the mat' to help catch and throw his daughter and her friends, in 2011.
At first the physical exertion left him out of breath and suffering from aches and pains, but he said he quickly 'got the bug' and in January 2012 he became the only male member of the Hunters Cheerleading troupe in Horwich, near Bolton.
Training three times a week, practising with his daughter at home and eating a healthier diet have helped Darren slim to 14st 2lbs.
"It's mainly me helping her with her stretching, balancing and tumbling," Darren said. "We'll even practise when we're on holiday. It's great to be able to get involved with her favourite hobby."
Darren works as an administration clerk and his unusual fitness regime has earned him teasing from colleagues, but he's not letting the taunts get to him.
"The lads at work give me stick all the time, but I don't care. I enjoy it. It's fun plus there's the health aspect too. I've lost three stone," he said.
"In fact I am in the stunt group at Hunters so there's no pom-pom waving. It's definitely more manly.There's five of us doing various throwing, twisting and catching."
Darren and Amy have so far participated in three competitions and Darren has high hopes for the future.
"At our last competition my stunt group came fourth and Amy's junior team came second," he said proudly. "It was such a good feeling to do so well and we want to continue to work hard to get to first place."
Darren who is married to Lauren, 30, and also has a 10-year-old son Mark, said that he would recommend cheerleading to other men looking to lose a little weight.
"It's better than the gym," he enthused. "It's not all about doing feminine moves like shaking your hips - it's throwing and catching mainly."