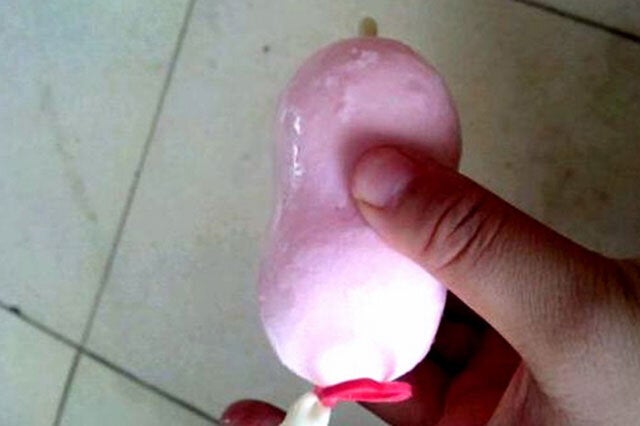 It might look suspiciously like a condom, but this is actually an ice cream aimed at children - and it has outraged embarrassed parents.
'Bubble Cream' is an ice cream dessert wrapped in a rubber sheath.
For kids to get to the gooey stuff inside, they first have to bite through the condom-style tip.
The strangely-packed treat is growing in popularity in China, but parents have condemned it because they say they're are too embarrassed to explain to their child why they shouldn't be eating it.
Their criticism came after photos showing children buying the ice cream in Shenyang were posted on a microblogging site by a user with the surname Jiang.
He told The Global Times: "I was stunned that it looked just like a condom.
"I would feel embarrassed to eat it as an adult, let alone giving it to a child. How can they sell products like that to children?"
One dad of a primary school child said: "I don't know how to explain to my kid why he shouldn't eat it. He's so little. It's really embarrassing."
Another said: "The look is a bit too shocking. It's embarrassing to eat as an adult, not to mention for kids."
And one parent asked: "It looks exactly like a condom. Isn't it misleading the kids?"
The condom-like ice-pop is produced by a licensed factory in Jilin Province and a patent on the packaging has been registered.
Despite the criticism, the manufacturer insisted that the design is a shape of a gourd, not a condom.
"The prophylactic association is just people's personal perception," said a spokesman.