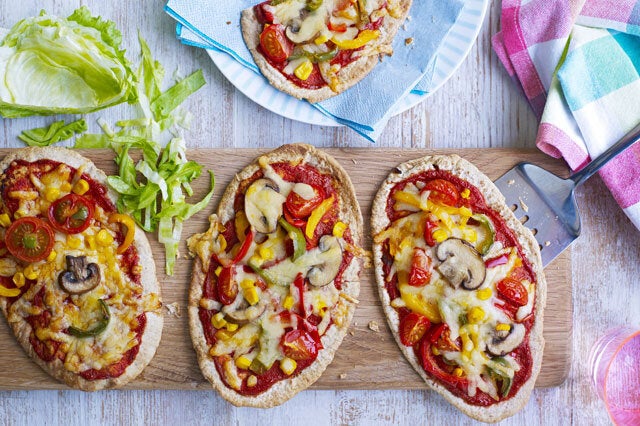 There's no need for all that kneading and rising with these speedy pitta pizzas. Get kids involved by letting them pick their own toppings.
10 minutes, plus 1 hour defrosting time
250g frozen mixed peppers
175g Italian double concentrate tomato purée
200g closed cup white mushrooms, brushed clean and sliced
125g medium British Cheddar, grated
100g tinned sweetcorn kernels, drained
1/2 x 335g pack cherry tomatoes, quartered
1/2 iceberg lettuce, shredded
1. Set aside the frozen mixed peppers for 1 hour to defrost, then pat dry with kitchen paper.
2. Preheat the oven to 200°C/fan 180°C/gas 6.
3. Pop the pittas in a toaster for a minute then let cool. Using a knife, cut the lightly toasted pittas in half horizontally and put on a large baking tray, cut-side down. Spread the tomato purée over the pitta halves, then top with the mushrooms, Cheddar, sweetcorn, tomatoes and defrosted peppers.
4. Cook in the oven for 10-12 minutes, until the cheese is melted and bubbling. Serve two pitta halves per person, topped with the shredded iceberg lettuce.