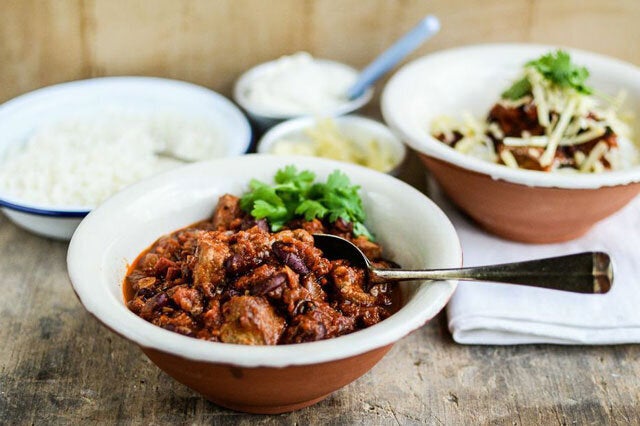 Pork chilli con carne b
y
Nick Coffer, My Daddy Cooks
Using diced pork instead of minced beef makes this chilli slightly lighter and also cuts down on eating too much red meat. The pork also perfectly complement the gentle spicing of the dish.
Prep time: 10 minutes
Cook rime: 1 hour 10 minutes
Serves:
2 adults and 2 children
500g pork, cut into 1cm cubes
3 garlic cloves, finely chopped
2 teaspoons ground oregano
A small bunch of coriander
400g tin chopped tomatoes
1 tablespoon chipotle paste, or less to taste (any variant of chilli sauce or cayenne pepper can be used, but you won't get the lovely smoky warmth of the chipotle chillies)
400g tin beans (pinto, black or kidney beans all work here), rinsed and drained
Sour cream and grated Cheddar cheese, to serve
1. Pour a really good glug of vegetable oil into a large casserole on a medium to high heat.
2. Throw in your diced pork and cook until it has browned nicely on all sides. Then add your chopped onion. Keep stirring the pork and the onion for about five minutes until the onion softens.
3. Add the garlic, cumin and oregano. Finely chop the coriander stems, reserving the leaves for the end of the cooking. Add the chopped stems to the casserole, along with the tomatoes, chipotle paste and beans. Pour in the stock or water.
4. Cover the casserole, reduce the heat and simmer gently for 45 minutes. Remove the lid and simmer for a further 15 minutes to reduce and thicken the sauce.
5. Coarsely chop the coriander leaves and chuck them in right at the end.
6. Serve with rice and top with sour cream and Cheddar.
The After School Cookbook by Nick Coffer: 120 quick, easy and affordable recipes for your hungry kids (Hodder & Stoughton) is out now, paperback and eBook, £16.99.