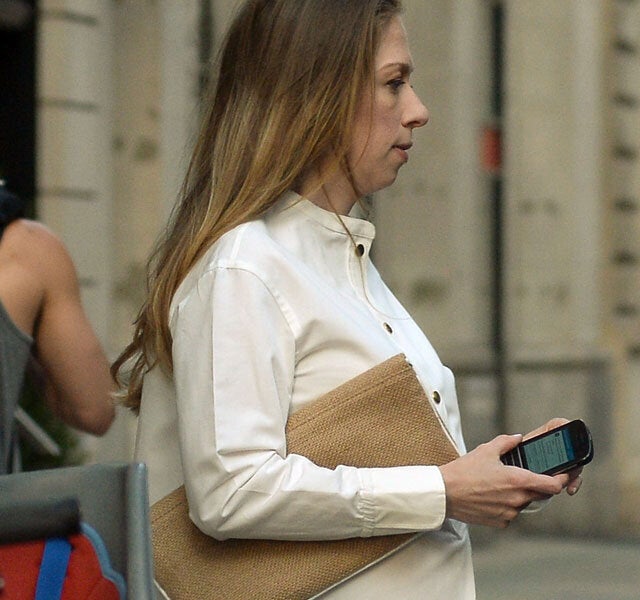 Pregnant Chelsea Clinton showed off her growing baby bump as she headed out to breakfast with her husband Marc Mezvinsky.
The 34-year-old, who announced her pregnancy in April, wore a loose-fitting white button-down shirt that covered her tummy.
The former First Daughter looked chic and relaxed as she strolled through New York in a comfortable pair of beige flats.
Chelsea, who married Marc in July 2010, revealed they were expecting their first child during a New York forum on April 17.
She told guests: "Marc and I are very excited that we have our first child arriving later this year.
"I certainly feel all the better whether it's a girl or a boy that she or he will grow up in world filled with so many strong, young female leaders.
"I just hope that I will be as good a mom to my child and hopefully children as my mom was to me."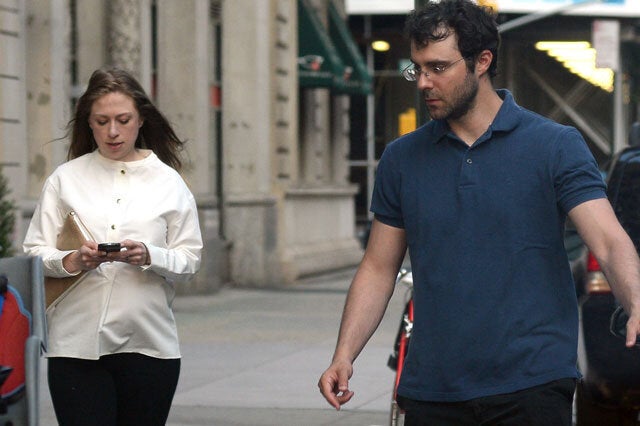 The couple, who have not revealed the sex or the actual due date of their child, live in a $10.5million home on Madison Square Park, which they bought in March 2013.
Their baby will be the first grandchild for former President Bill Clinton and former U.S. Secretary of State Hillary Clinton.
The couple expressed their delight on Twitter.
Hilary Clinton wrote: "Most exciting title yet - Grandmother-To-Be! @Billclinton and I are thrilled that Chelsea and Marc are expecting their first child!"