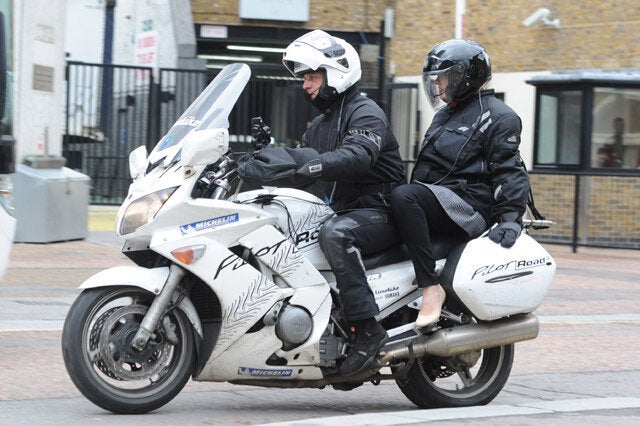 Baby bump on board! It is not for us to judge, but doesn't this photo of pregnant Holly Willoughby on the back of a motorbike look a bit risky? At the very least, uncomfortable, surely!
But on Tuesday, it was business as usual as the mum-of-two was seen hopping on the back of a motorbike outside the ITV studios as she headed home from work.
But any notion that the expectant mum might have been a bit apprehensive about the mode of transport was quickly dispelled because as the bike weaved through London's traffic, Holly could be seen smiling broadly behind the visor of her helmet.
Holly posted a statement on her blog earlier this month revealing her exciting baby news.
She wrote: "Surprise Surprise (and it was a surprise!!) I'm really happy and excited to tell you that Dan and I are expecting baby number 3!!
"We feel blessed and very luck to be giving Belle and Harry a little brother or sister later this year."
The couple are already parents to Harry, four, and Belle, two.
Last week she revealed she is 'terrified' of being pregnant again on Saturday Night Takeaway.
When presenter Dec Donnelly congratulated her on air, she said: "You'll make me cry! I'm very in touch with my emotions as the moment!... I'm terrified!"