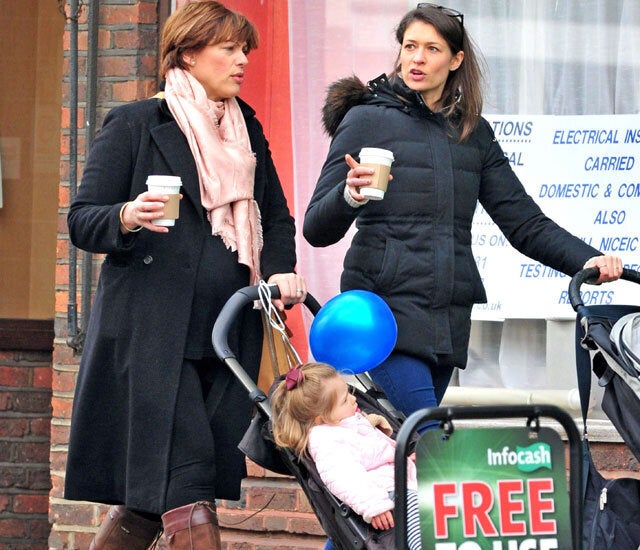 Looking happy and relaxed, pregnant Kate Silverton, 43, was spotted taking a stroll with her two-year-daughter, Clemency, in London at the weekend.
The newsreader kept her baby bump hidden beneath a tailored black wool coat as she pushed Clemency along while she chatted with another mum with her toddler.
Kate recently spoke about her joy at discovering she was pregnant with her second child.
After conceiving Clemency naturally following years of failed IVF treatments, Kate said she was stunned by her second pregnancy.
She broke the news on Twitter and uploaded a scan picture in which her baby appeared to give a thumbs up sign. She said she wanted the news to inspire other couples who are struggling to have children.
She said: "We're absolutely thrilled. It came as a complete surprise. Nobody else could believe it either. We feel really, really blessed. I'm still getting my head round it."
When Clemency was born in November 2011, Kate - who lost an ovary during an operation to remove a cyst when she was 29 - had already been through four rounds of IVF treatment and had resigned herself to never becoming a mum.
But within months of stopping the treatment she conceived naturally and later described the pregnancy as a 'miracle'.
The BBC presenter said: "I had no wish to go down the IVF route again after all those years. It was an utterly gruelling process. I was resigned to thinking 'what will be, will be'.
"My husband and I had pretty much given up the idea of me falling pregnant again after Clemency.
"We knew how extremely lucky we were to have had her and we had come to terms with that being our family. I think probably I had a tiny, tiny glimmer of hope that it would happen.
"So many doctors have told me, 'It isn't going to happen, you have less than a two per cent chance of conceiving'.
"I'm a 43-year-old woman who has one ovary, and who has very, very few eggs. The odds were stacked against me."
She added: "Even though the odds are long, I hope that this does give some hope to all those couples who are trying to conceive. I think it goes to show that so far as fertility is concerned, medical science just doesn't yet quite know everything."
She said: "Clemency is very excited by the prospect of having a brother or sister and keeps asking me to open my tummy so she can see the baby, and she tells me she is going to look after it very carefully.
"It felt like a miracle last time round. I don't know what this is, I'm still getting my head around it.
"I'm so excited about going into labour and breastfeeding and doing all of those wonderful things. It's such a privilege to be a mum."