Katie Price has revealed that she is divorcing husband Kieran Hayler.
After a series of normal tweets, the model and TV personality's verified Twitter account appeared to announce the out-of-the-blue divorce. A furiously worded tweet - the truth of which cannot be verified - read:
Sorry to say me and kieran are divorcing him and my best friend jane pountney bee having a full blown sexual affair for 7 months

- Katie Price (@MissKatiePrice) May 7, 2014
The tweet was met with outpourings of sympathy for the mum-to-be, who lamented that she was experiencing the 'Worse pain in the world' and that 'No human being deserves this especially being 6 months pregnant'.
Katie told the world that she was expecting a fifth child just last week. She revealed how she had fallen ill while holidaying in Cape Verde with nine-month-old baby Jett, only to discover that she was six months pregnant with her second child by husband Kieran.
The shocking divorce announcement was followed by an even more acid-tongued tweet in which the pregnant model and TV star lashed out at the 'best friend', accusing her of sleeping with her husband. 'She is a whore , home wrecker slut,' the model ranted.
Jane Poutney has been a best friend of Katie's since she was a teenager. Katie has spoken of their closeness in the past, but today's Twitter outburst suggests that the friendship has come to a bitter end.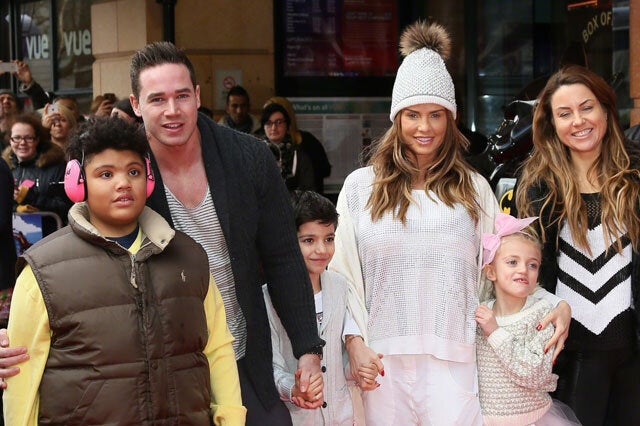 If the news is true, it will be Katie's third divorce after her marriages to Peter Andre and Alex Reid ended. Katie and Kieran have been married for little over a year, after getting hitched in the Bahamas in January 2013.
Katie gave birth to her fourth child and her first with Kieran, Jett Riviera, in August, before news broke just this week that she is already six months pregnant with a surprise second baby. She is also mother to Harvey, 12, her son by footballer Dwight Yorke, Junior, nine, and Princess, seven, her children with ex-husband Peter Andre.
The social network's users were all of a twitter at the news, with some speculating that the glamour model and entrepreneur's account has fallen victim to internet hackers.
However, Now magazine, where Katie has a regular column, were quick to retweet their columnist - promising 'the full story' on the showbiz shocker, making it unlikely that the star was a victim of hacking.
Dan Wootton, head of showbiz news at The Sun, also appeared to confirm the news was a genuine announcement from Katie, saying that the star's spokeswoman refused to comment but did not deny the tweet was genuine.
Katie Price's spokeswoman offers no comment on her tweet announcing shock divorce. No denial or suggestion she has been hacked. It's true!

- Dan Wootton (@danwootton) May 7, 2014
The Mirror's 3am showbiz section have also revealed that Katie has pulled out of her scheduled appearance on Loose Women, where she was due to appear as a guest today.
You couldn't make this up!
UPDATE: Katie has now published an official statement on her website. It reads as follows:
'I appreciate most people will have seen my tweets on the subject of my marriage to Kieran.
I make no apologies for them though it will be appreciated that, sending them immediately after Kieran confirmed to me what he had been doing for the last 7 months, those tweets were a sign of my heart breaking. That he was doing it with a close friend of nearly 20 years is hard to understand.
This statement however is from my head, not my heart. I am appalled that someone I loved, trusted and believed in has behaved in this way. If he had so little respect for our relationship I would have hoped he would have thought about our child or the one that we have on the way. That he did not means he will no longer be part of my life. I will do all I can to ensure he maintains a relationship with his children should he want that.
I am so grateful for the love of my children and family at this time.'