Pregnant Katie Price has confirmed that she is standing by her ex Kieran Hayler despite his affair with her ex-best friend Jane Poutney.
"It was taken to mean that I was staying with him and we were sorting things out," the mum-of-four wrote in her NOW magazine column. "If only things were that simple and you could wave a magic wand. The truth is rather different. Kieran's undergoing treatment with respect to some historic issues.
"He's the father of one, and God willing, soon two of my children. I feel I owe it to them to stand by him and support him in his efforts to resolve his issues so that he can be a positive influence on our lives. What that means for me and Kieran in the long term, I have no idea."
Katie, 36, let slip that 27-year-old Kieran has been spending more time at her home, during the second of her weekly appearances on FUBAR radio today (June 24).
While discussing whether big age gaps cause problems in relationships with her co-presenter Mark Dolan, Katie said:
"I had this the other day, Kieran was round the house, and I said to my brother about Rik Mayall, 'I used to watch The Young Ones,' and Kieran said, 'What's that?'"
Kieran - whose ears must have been burning by this point - will be pleased to know he wasn't the only topic of conversation on the show. Katie also discussed her style of parenting.
"I never smack them," she said. "When I want the kids to do something, I just say it once or twice nicely. The third time I shout. They're so lippy as well! I'm not scary though, they say I'm too soft. I'm an easygoing parent."
Katie also said that she can understand why people think she's 'mad' for wanting five children, but she 'loves the chaos' of having a large family.
And it seems Katie isn't the only person who is excited that their family will soon be expanding, as she recently posted a sweet photo of her eldest son Harvey, 12, proudly kissing her baby bump on charity photo sharing app YouGossip.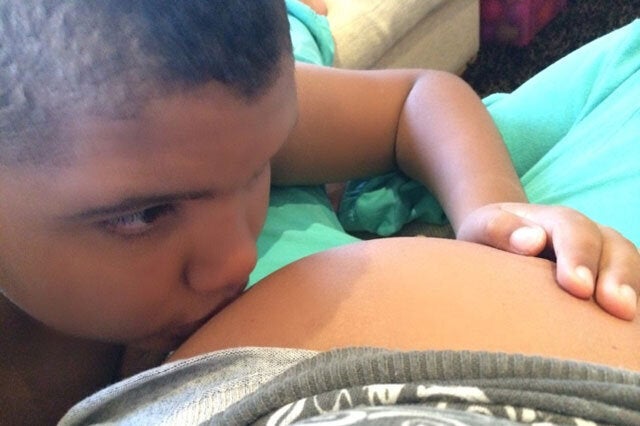 During the radio show Katie also spoke to cosmetic surgeon Mr Alex Karidis about how long she should leave it between having a baby and having her boobs done again.
When he recommended she should wait nine to 12 months, Katie responded in a horrified tone: "Oh quite long then, Jesus."
Before checking herself and adding a more measured: "You have to be sensible with surgery and not go too far like I have done in the past."