Katie was originally thinking of choosing a baby name that would match the uniqueness of her older daughter's name - Princess Tiaamii Crystal Esther.
But she has had a change of heart and it seems she has now been inspired by the name she and Peter Andre gave to their son - Junior.
Katie announced on her FUBAR Radio show that she's thinking of naming her fifth child after herself.
"My real name on my birth certificate is Katrina Amy Alexandra Alexis Infield," Katie revealed this morning (July, 8). "I don't know why my mum called me that!
"I might name this baby Katrina to follow on my name though."
Katie turned up for her appearance on the radio show with her seven-year-old daughter Princess in tow. The pair were dressed identically in flowery trousers and black tops.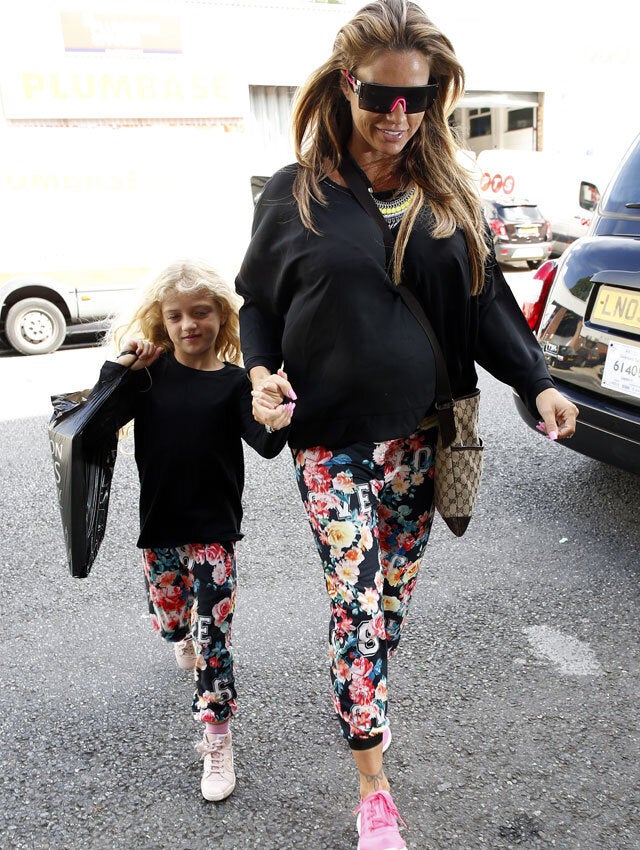 "I'm on my fifth pregnancy now and [your libido] varies through different pregnancies," she said.
"Like when I was pregnant with Harvey, [my libido] hasn't disappeared. I'm pregnant not ill."
Katie is due to give birth in the next few weeks and she is holding a baby shower party this weekend.
"I'm trying to get hold of pregnancy suits so the men can wear them," she said.
"I want them to do tasks and games while wearing them - they have to be in it the whole time. Going to the toilet, helping with the bbq. It's important for them to know how the pregnant mum feels."
We wonder if she's had trouble persuading many men to come along!