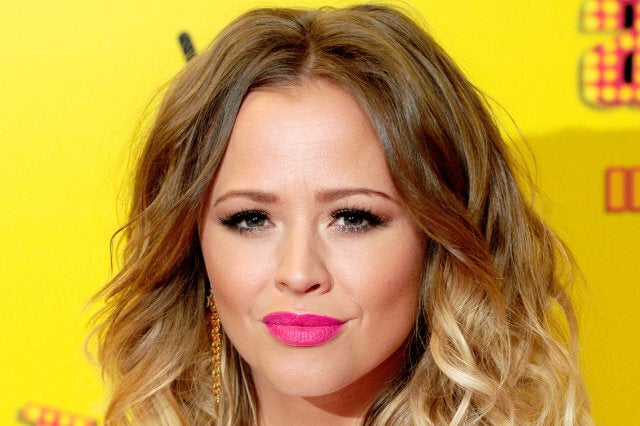 The 32-year-old star, who is expecting her first child with partner Justin Scott, insists women 'struggle with having it all' because they want to have a career but at the same time their biological clock is ticking and 'the years fly by'.
Speaking at the Specsavers Spectacle Wearer of the Year launch, she told the Mail: "I would like a big family but I am realistic and I'm aware at 32 I have left it a little late. So I'm realistic about how many I can have, but I would like to have more than one.
"I think women today do struggle with the having it all element. For me there was nothing stopping me but I wanted to have it all and take the opportunities that I had with my career and create a really secure family unit, a home.
"I can relax and it's set up and no financial pressure. It's a tricky one because we want to indulgent in all these massive opportunities which come your way and soak it all up and I think the years fly by and then you are suddenly in your thirties."
She said she was thrilled to have achieved many of her goals but now wanted to 'dedicate' her life to being a mum.
She said: "But now I'm in a position where I have indulged everything I could ever what to do, from singing to musical theatre to presenting and modelling - 'Strictly [Come Dancing]'.
"I've travelled. I'm in a good mental state, I'm completely fine about being selfless for the first time ever and I can now dedicate my life to a baby.
"That world- which is a world away from where I came from - will hopefully be passed on to my kids, and that's the benefit of it. I'm lucky to feel like that by my age."
She said if she had stayed in her hometown of Bradford she may have thought about having children sooner.
She added: "Had I have been in a different career I may have settled down sooner and started a family sooner.
"I've always had it ringing in the back of my head, I've always remained aware that I don't want to leave it and it be the one opportunity I miss out on. But timing is everything.
"If I had stayed up North I would probably have had them sooner, London adds 10 years onto everything but it's exciting.
"I feel it's the perfect time for me to have the baby, I've been busy for 10 years and there's never been a time before now before I could genuinely stop for a while and be a mum.
"I couldn't take the time out and I also couldn't have a baby worrying that I was dedicating enough of myself to motherhood. "I don't intend to stop working because it is a part of who I am but I am traditional and I think it's important to have quality time."
Kimberley was announced as Specsavers Spectacle Wearer of the Year ambassador and launched the company's annual campaign in conjunction with anti-bullying charity Kidscape.
This year's competition invites entrants to post a selfie of their 'best specs' on the website, for every picture Specsavers will donate £1 to the cause.