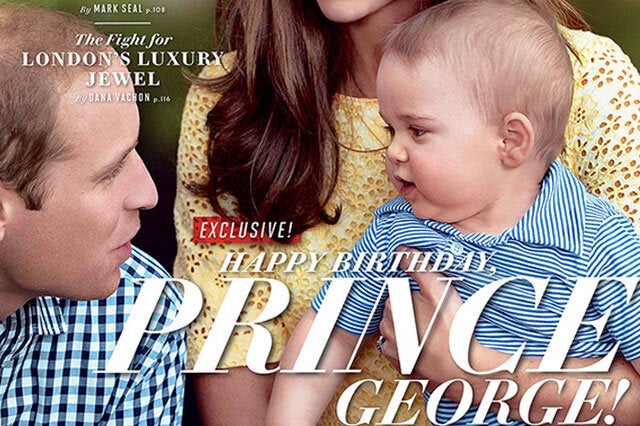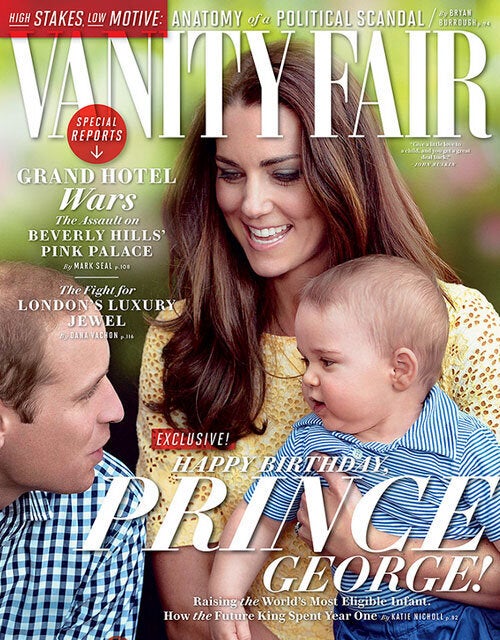 Prince George may only be a year old, but he has already landed his first glossy magazine cover.
The royal baby will grace the front of Vanity Fair as part of the US magazine's in-depth report on George's first year.
In a preview issued by the magazine's press office, we are treated to a sneak peek of the cover. It shows George in his now-famous sailor stripes alongside the Duke and Duchess of Cambridge at Sydney's Taronga Zoo on the family's tour of New Zealand and Australia in April.
The mag promises insights from palace insiders and friends of the family, giving a first-hand look at what life has been like for William, Kate and George over the past year, including inside details from the royal tour.
So, what can we expect to find out? Here are the juiciest titbits you'll want to be looking out for when the magazine hits the shelves next Tuesday.
Wills and Kate have been the subject of constant pregnancy rumours, with headlines wondering 'Is Kate pregnant?' a near-permanent fixture of tabloid magazines. However, Vanity Fair - a cut above your average gossip rag - has it on good authority that the couple are thinking of trying for another baby this summer.
Prince William asked the Queen for her blessing for the family to fly to New Zealand together, as it is against royal protocol for two direct heirs to the throne to travel together (luckily, she said yes).
VF claims that after Kate was photographed in a baseball cap and trainers pushing Prince George through a public park in December, Kensington Palace officials had to implore the British media not to publish them (although foreign publications weren't so compliant).
The Cambridges picked Maria Teresa Turrion Borallo to be their new nanny on the recommendation of a friend, after Jessie Webb - William's former nanny - decided that, at 71, at she wasn't up to the long journey Down Under.
Maria's skills apparently go way beyond singing lullabies and changing nappies. She is also adept in self-defence, fending off paparazzi and high-speed driving, according to VF's sources. Not quite what we expected from the woman whose childhood friends thought she would become a nun!
The magazine, with Kate Nicholl's exclusive feature on George's first year, appears on shelves on July 15.