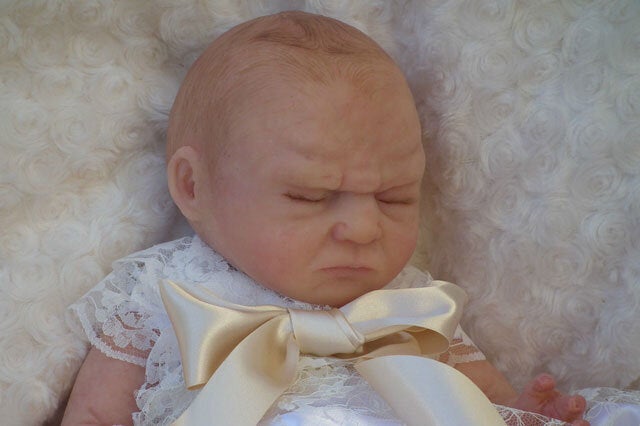 The Duchess of Cambridge may not be too pleased to learn that this rather grumpy-looking doll is supposed to look like Prince George, but it certainly tickled the fancy of one eBay customer who paid more than £1,600 for it.
It is a limited edition Reborn doll, which was made from soft silicone by British Reborn artist Chloe Mynott. The doll is one of only four in existence, as Chloe promises in the eBay listing that the 'face will only ever be reproduced four times.'
The detailed doll has hand-painted hair, mohair eyelashes and open hands - which are said to be 'just like the Prince's first royal wave.' It even has a magnetic silicone umbilical cord!?!
The attention-to-detail doesn't end there: the doll weighs 8lb 6oz - the same weight as Prince George when he was born - and comes complete with an Aden & Anais bird blanket, identical to the one George was wrapped in when he left the hospital.
We think the doll bears far more resemblance to this devil baby than HRH George, but that didn't put off two ebay bidders - one of whom opened with a starting bid of £1,600, only to be pipped at the post by a last minute bid of £1,650.
Despite attracting big bids, not everyone's response to the doll has been positive. A YouTube video of the doll uploaded by Dream Catcher Reborns was called 'extremely creepy' by one viewer, while another added: "What about the respect for the parents? Would you like that your baby is created as a 'limited' real-life doll copy of your child and sold? Sorry that's so morbid!"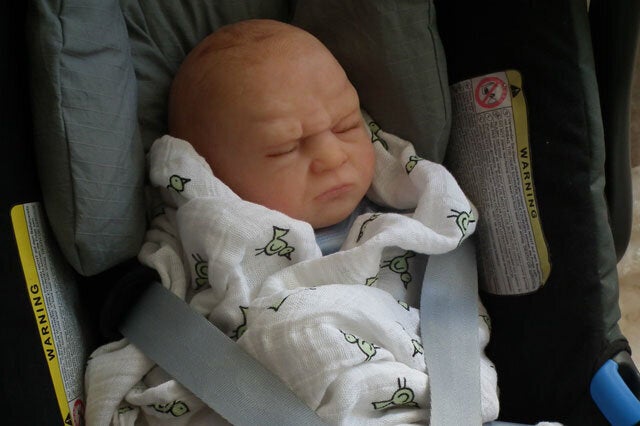 Chloe is not the only Reborn artist to have created a Prince George replica. Helen Beattie, who calls her Merseyside Reborn shop a 'nursery,' has also made 'limited edition' George dolls for the knock-down price of £199.
While Royalists on a budget can always settle for a plastic Brother George doll from the company who make the popular Baby Annabell range.
Click through the gallery below to see how the real-life prince compares to the doll, or check out the eBay listing to see it in it's full (naked) glory!