Prince George stole the show on his debut royal tour Down Under this morning.
Arriving in New Zealand on the first day of a three-week trip, the baby prince looked curious and energetic as his mum, the Duchess of Cambridge, carried him down the aircraft steps, led by dad Prince William.
After spending 30 hours in flight, it would have been understandable if eight-month-old George looked a little tetchy, but there wasn't a hint of that.
Instead he just seemed happy to be on terra firma as the Royals were ruffled by the wind.
Wearing a cream cardigan over a white shirt, matching shorts and soft leather shoes with socks, Prince George looked smart and stylish, as did his mum in an elegant red coat by Catherine Walker, a British designer favoured by William's late mother, Diana, Princess of Wales, and a pillbox hat by Gina Foster.
Kate was also wearing a diamond and platinum silver fern brooch, on loan from the Queen.
The family and their 11-strong entourage had left London on Saturday night, taking up the First Class section of a scheduled Qantas flight via Dubai.

Among the party seen disembarking was George's full-time nanny, Spanish born Maria Teresa Turrion Borallo, who has not been seen in public before.
After disembarking in Wellington, the Duke and Duchess enjoyed a traditional ceremonial welcome at Government House where they were met by traditional Maori warriors as well as a local dignitary, who rubbed noses with William and Kate as they stood on the soggy lawn outside the stately home.
The family will spend the rest of the day privately, trying to beat their jet leg. Although a nap looked like the last thing baby George had in mind!
Although the three week trip has been more than a year in the planning, it has very much been designed with baby George in mind, according to aides.
And instead of travelling from city to city, William and Kate will base their young son in three different 'hubs': Wellington, Sydney and Canberra.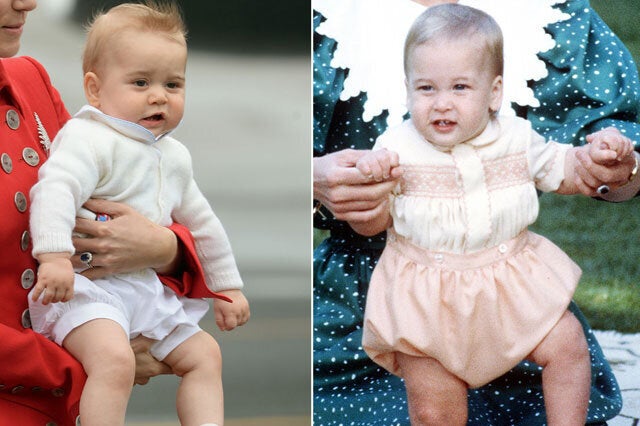 Prince George is the spitting image of his dad when he was a baby. Pic: Getty
The arrangement means his parents will be able to travel back to see George almost every night – bar a stop-over in Queenstown, New Zealand, and another at Ayers Rock in Australia.
The couple's private secretary, Miguel Head, said earlier this month: "It's a long way to go and [would mean] a long time away from their son. The tour has been designed with Prince George's consideration and comfort in mind.
"Taking a baby on a Royal tour is not a first, but it has not happened in this Royal Family's context for many, many years so there has been much to think about – as any new parent travelling long distance will recognise."