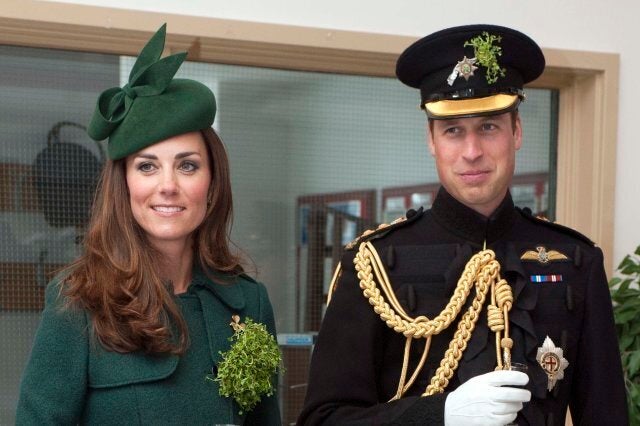 Proving that new parents' nesting instinct knows no bounds, Prince William and Kate reportedly splashed out double the planned budget perfecting the five bedroom home they share with their now seven-month-old son.
Last year, accounts recorded that £1.1million had been spent on renovating Apartment 1A, but 'spiralling costs' have meant that a further million is believed to have been paid out, according to the Mirror.
The four-storey, 20-room apartment was once home to Princess Margaret but was left vacant following her death in 2002.
Costs of the renovations already include £600,000 spent on replacing the heating, hot water systems and wiring, and the removal of asbestos, £400,000 on renewing the roof and £100,000 on professional fees.
A Buckingham Palace spokesman has called this "essential building work, which would have had to take place regardless of who occupied Apartment 1A."
Buckingham Palace's official accounts for this tax year aren't expected to be published until June. However, royal aides are said to already be 'bracing themselves' for public criticism over the amount.
"The young royals are extremely popular but when people up and down the country are struggling to make ends meet, this is not going to go down very well," a 'source' told the tabloid.
i
The Palace is mindful that they are under the spotlight in these difficult times, and there is a fine line between the expected lifestyle of a royal couple and the perception of excessive and lavish spending.
i
The total amount spent on the apartment is likely to be much more than the official records show, as Kate has reportedly personally covered some of the costs, after changing her mind about the colour scheme she picked whilst pregnant with Prince George.
The Duchess originally selected colours from up-market paint brand Farrow & Ball, according to the Daily Mail. But in a bid to save money she bought paints in matching colours from the Dulux range.
This act of frugality led to disastrous results, with one room having an 'unexpected purple tinge'.
Kate is said to have blamed her slip in judgement on 'pregnancy hormones' and rather than risk further mistakes she and Wills have turned to architectural and urban designer Ben Pentreath to redesign their home.
Best known for his classical designs, Ben has previously revamped the Lime Wood hotel in Hampshire (where Sophie Dahl and Jamie Cullum hosted their wedding reception) and he is also assisting William and Kate with their country home, Anmer Hall, on the Queen's Sandringham estate.