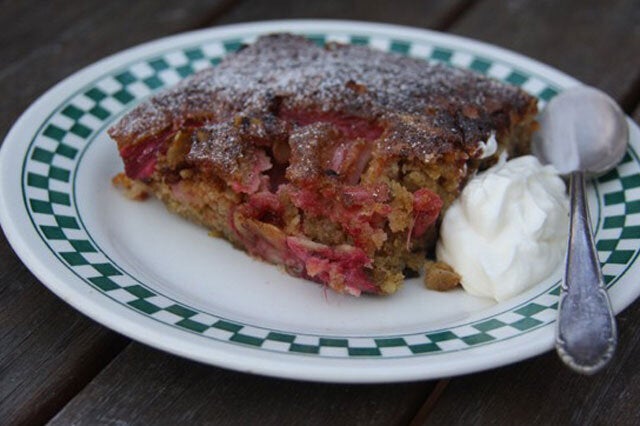 Rhubarb, almond and polenta traybake
by
Jassy davis
This traybake is a gluten-free cake made with a combination of ground almonds and polenta in place of flour. It makes a chunky sponge that stands up to the combination of rhubarb, fudgy brown sugar and flaked almonds and won't go soggy if you keep the cake for a day or two in a tin.
Prep time: 20 minutes
Cook time: 45 minutes
Makes:
8
200g butter, softened, plus extra for greasing
1 tsp gluten-free baking powder
250g rhubarb, trimmed and sliced into 3cm chunks
100g soft light brown sugar
1. Preheat the oven to gas mark 4/180°C/fan oven 160°C. Grease an 18cm x 30cm tin with butter and line the base with baking parchment. Set aside.
2. Beat the butter until soft and creamy, then beat in the sugar until it's combined and the mixture is fluffy. Slowly beat in the eggs, a little at a time, then stir in the polenta, ground almonds, baking powder and spices.
3. Spoon the cake batter into the tin and level the surface. Toss the rhubarb with the remaining sugar and flaked almonds and scatter over the top of the cake. Bake for 40-45 minutes or until the cake is browned and firm to the touch.
4. Cool in the tin for at least 15 minutes, then dust with icing sugar and serve warm or cold in slices with Crème fraîche or yoghurt.