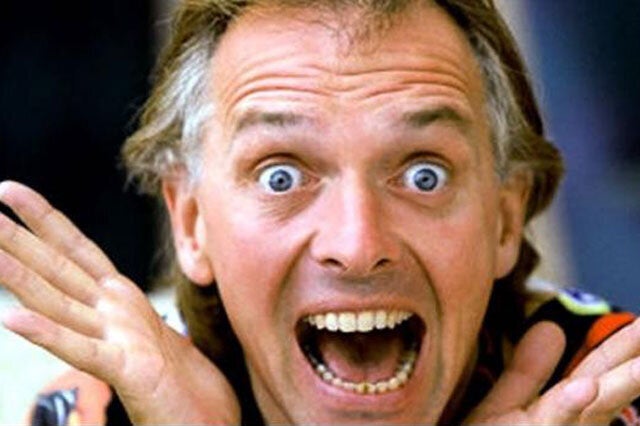 Rik Mayall's youngest daughter has paid a Facebook tribute to her 'generous, foul-mouthed and hysterical father' who died suddenly on Monday.
Bonnie Mayall, 18, the 56-year-old comedian's youngest daughter, posted a picture of her dad pulling a face and wrote: "My dad was loved not only by my family, but by many others.
"We will never forget him and neither will the world. R.I.P to the man, the myth, the legend – my wonderful, generous, foul-mouthed and hysterical father. My idol now and forever."
She added: "We love you daddy."
Rik, the star of The Young Ones and The New Statesman, died suddenly at his home in London.
His wife, Barbara Robbin, who is understood to have found his body, said she didn't know how he'd died.
Speaking outside the couple's home in Barnes, south-west London, Barbara said: "We don't know yet what happened. He had a strong heart, so I don't think it was a heart attack. But we just don't know until the coroner's report.
"Maybe he had a fit, maybe it was his heart. We just don't know."
Peter Richardson, creator of The Comic Strip Presents, helped give Rik his big break in the early 1980s. He said his son was with the comedian 'an hour or so before he died'.
He told BBC Radio 4's Today programme that Rik was "just happily chatting away.
"It was very quick and we still don't know quite what happened but it was, you know, a seizure of some sort."
The actor was left seriously ill after a quad bike accident in 1998, which left him in a coma for several days.
Peter added: "At the time I don't think people thought he would survive that, but he lived for another 16 years and it was just shocking that he was so happy and seemed very healthy when he did go."
Rik and Barbara, a make-up artist, married in 1985 and have three children: Rosie, Sidney and Bonnie.
Rosie and Barbara both posted recent photographs of Rik, with friends of the family leaving their own messages and memories underneath.