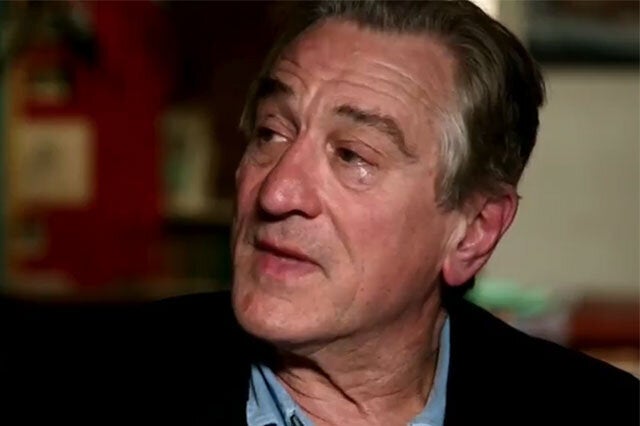 Robert De Niro has showed a softer side of his character while talking about his relationship with his father - an aspiring artist who struggled with his sexuality.
The actor, who is best known for playing tough gangsters and bad guys, shed a tear while recording an HBO documentary in tribute to his late father, also called Robert De Niro.
"The reason I kept his studios is for my kids," De Niro says. "For them to know what their grandfather did.
"Being a kid I wasn't that interested in going to his shows and all that, but I realise how important it is for children to appreciate the things that your parents did, if they want to share them with you.
i
Because I regret certain things with my parents, that I didn't follow through on. I feel it's my obligation to kind of document what he did, to keep it going. The whole reason to do it is for my father.
i
In the documentary, De Niro speaks candidly about his parents' relationship, revealing that although they didn't divorce until he was 12, they actually separated 10 years earlier, when he was just two years old.
He reads excepts from his father's extensive journals that document his father's struggle to accept his sexuality.
De Niro explains how the diaries have brought him a deeper understanding of his father.
"Obviously I realise now that it was hard for him," he says. "He had a lot of what seem like classic conflicts about all that.
"My mother and I spoke about it a little bit and he was very quiet with whatever he did. He's not going to tell me, I'm his son, I'm the last person to know."
His father died of prostate cancer in 1993 at the age of 71.
De Niro, who is himself now 70, was asked in a recent interview with Out magazine, whether he thought his father was conflicted. He responded:
"About his homosexuality? Yeah, he probably was, being from that generation, especially from a small town upstate. I was not aware, much, of it.
i
I wish we had spoken about it much more. My mother didn't want to talk about things in general, and you're not interested when you're a certain age.
i
"Again, for my kids, I want them to stop and take a moment and realise that you sometimes have to do things now instead of later, because later may be 20 years from now - and that's too late."