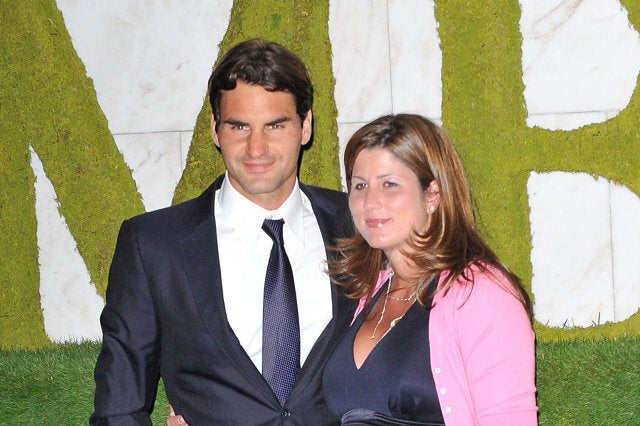 Roger Federer has spoken for the first time about the joy of becoming a dad to his second set of twins.
Last week, the tennis star's wife Mirka gave birth to boys Leo and Lenny – little brothers to twin sisters, Myla and Charlene, who were born in July 2009.
And in an interview with the Telegraph, the proud father said: "This is the best time of my life."
He added: "When we found out we were having twins, it was like one of those moments where you're like: 'Wow, I can't believe it, it's really happening again'.
"But I always felt that there was a chance. My sister Diana has twins: a boy and a girl. And my grandmother on my mum's side was a twin apparently. So I guess that we jumped a generation. (Sorry Roger, but twins is all about the maternal side - mum's eggs.)
"It is pretty extraordinary. But I don't feel special because of it. In fact I believe that it's more to do with Mirka, but the doctors might tell you otherwise.
"I can't actually remember when we found out: for me, Mirka being pregnant, that's the big news. And then, if it's one or two, that's secondary.
"Same with boys or girls, it didn't matter this time. I would have been really happy to have another two girls, because I love my girls so much. It's boys now, clearly, and I couldn't be happier."
Myla and Charlene are identical twins, but it's not yet clear if the boys are.
Roger said: "We don't know actually this time. For some reason, they couldn't tell if they were identical. So we are making a DNA test to find out."
Roger pulled out of a tournament to be by his wife's side when she suddenly went into labour.
He said: "Those who are parents know how important the birth is and that everything went well. It's an unbelievable time, so much more interesting than just winning a tournament or anything.
"That is so, like, secondary. It's really exciting times now and you just want to be in touch and know everything that's going on. I'm calling her all the time and she's calling me and it's really, really beautiful."
The proud dad revealed that Leo and Lenny have turned out to be perfect babies.
He said: "One thing I didn't remember [from the first set of twins] is that they slept that much after they're born.
"I thought that they were maybe sleeping 18 or 19 hours a day. It's actually literally 22 hours, 23 hours, it's non-stop.
"I mean, they might have the odd scream. But it's really so much resting and literally just having their milk. It's that simple."

Talking about the future and the demands of touring, the multi-Grand Slam champion said: "My plan is that they can also come on tour, and this time around at least we kind of know how to handle kids on the road.
"That was quite a challenge I must say [with Myla and Charlene], early on. Especially after they were one year old, when they started to become much more mobile and walking around a lot.
"Just because when you fly, when you're in transit, or hotel rooms – where do you go in the cities? Not that it's super-difficult, but we kind of know our way around know and how it's done.
Story continues below the video
"My wife does a lot of work, as much as she can. And I try to help as much as I can. We have the grandparents as well and all my team members, they sometimes just tag along.
"Clearly we also need some help on the road, so Mirka can have an opportunity sometimes to sleep in a little bit, or come to watch one of my matches."