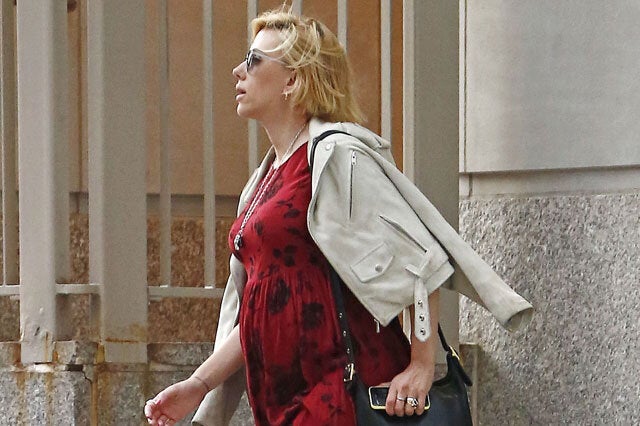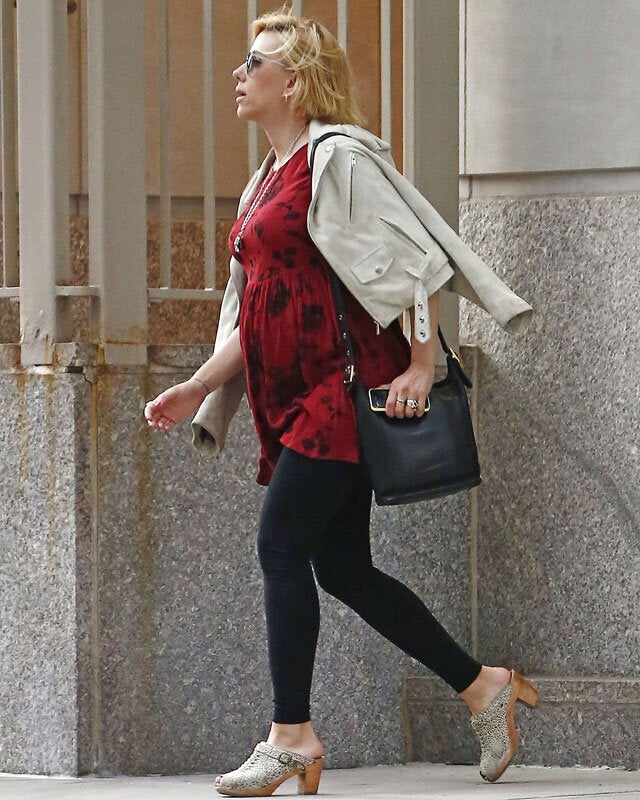 Scarlett stepped out in New York over the weekend, dressed in a style that flattered her growing curves.
The 29-year-old actress was pictured leaving her Manhattan apartment wearing a beautiful scarlet smock that fluttered over her baby bump.
She teamed the top with black leggings, a cream biker-style jacket, dark sunglasses and a pair of leopard print clogs.
Scarlett's fiancé, French journalist Romain Dauriac, was nowhere in sight, but he recently accompanied her to London while she was filming Avengers: Age of Ultron.
The pair have been dating since November 2012 and Romain proposed last September.
Although neither Scarlett nor Romain have announced the happy news, her pregnancy has been 'confirmed' by a number of loose lipped sources close to the star.
story continues after the video...
In May, singer/songwriter Pete Yorn, who has been friends with Scarlett since they worked together in 2009, stated that she is 'very pregnant'.
Marvel Studios President of Production Kevin Feige, who worked with Scarlett on the Avenger's movie, has also openly discussed how her pregnancy affected filming:
"Well my first reaction was I was very happy for her and very excited for her," he said.
"My second reaction was we've got to move some pieces on the chess board around schedule-wise. But we didn't change the script at all, which is sort of the most important things for us in terms of the storyline."
It's not known why Scarlett has decided to keep quiet on the topic, or how she plans to avoid questions about her pregnancy as she promotes her new movie 'Lucy,' which hits UK cinemas on August 22.
Perhaps she has decided to take a leaf out of Jessica Simpson's book. When the singer was pregnant with her first baby she said the reason she didn't formally announce her pregnancy was because: "The stomach spoke for itself."