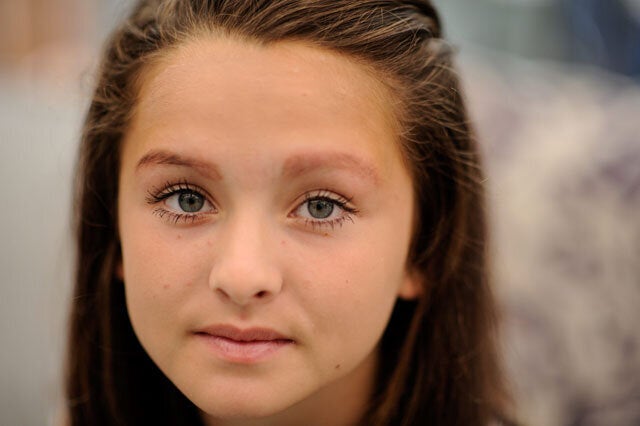 A 13-year-old schoolgirl was left in agony with a swollen and blistered face after suffering an extreme allergic reaction to an eyebrow tint.
Megan Billingsley, of Solihull, West Midlands, now fears that she has been permanently scarred by the botched beauty treatment, which caused her eyebrows to fall out in clumps, leaving behind vivid red burn marks.
Megan was taken to a local salon by a family friend to have her eyebrows waxed as a treat ahead of an upcoming holiday with family members.
After the wax, the family friend offered to pay for her to get a coloured tint for her newly-shaped brows. Megan hesitated, telling the beautician that she had previously had an allergic reaction to hair dye.
But when the beautician asked again, Megan agreed to 'risk it'. However, instead of giving the girl a 'patch test', in which a small amount of product is placed on the skin to test for an allergic reaction, the beautician applied the full eyebrow tint.
Initially, Megan appeared to have nothing worse than slight reddening around the brows. But mum Caroline was wary, and attempted to wash the dye out before Megan left for Greece.
It turns out Caroline was right to be worried. By the time the family touched down, Megan's face had swollen up so badly that she could barely see, and painful blisters had broken out on her face.
Her reaction was so extreme that the family used their travel insurance to take her to a local hospital for some relief. But even after receiving medical treatment, Megan spent the rest of the holiday in misery, suffering from headaches in addition to the pain of her inflamed skin.
"I really hope my eyebrows grow back normally but I might have to live with this for the rest of my life," she told the Daily Mail.
Patch tests are always recommended when using any new beauty product, especially if there is a history of previous allergic reactions.
The owner of Hair Heads, calling himself Saab, told reporters: 'I have seen the photographs of this girl and I cannot say this did not happen but I will only respond formally to solicitors.
"I have run this shop for eight years and I have never had any problems."