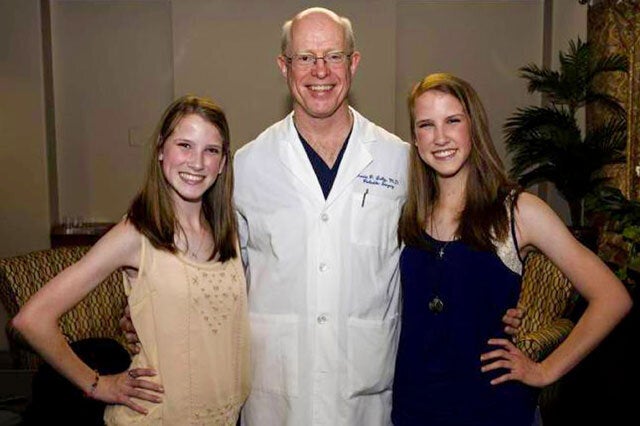 Emily and Caitlin Copeland were attached at the hip and shared a liver when they were born in 1996.
They spent the first 10 months of their lives joined to each other before a pioneering operation by Dr Kevin Lally, at Hermann Memorial Children's Hospital, separated them.
This week, against all the odds, the sisters from Houston, Texas, reached their milestone birthday – and posed with Dr Lally to mark the occasion.
He said: "You don't always see the long-term results of what we do, and it's nice when you get to see a good one."
Caitlin added: "I think for anyone it's exciting to get to 18, but in particular for us I think it's just a really big blessing that we got to 18, considering what could have happened."
The twins' mum, Crystal, found out she was pregnant with twins in 1996 when she was under the care of Dr Lally – but didn't know the extent of their joining.
She said: "At the time, if you Googled conjoined twins all you got was circus acts and babies that died."
Assessments found that the babies were joined at the liver, not at the heart, 'which would have been fatal,' Crystal said.
She added: "Dr Lally thought there were good opportunities for separation where they would both be able to live basically normal lives."
The complications after the twins were born were concerning. One was born with a blocked intestine, and surgery had to be conducted when they were just two days old.
Dr Lally wanted to separate them at that point, but when the surgery began, doctors discovered they were not only conjoined at the liver but the organs were discharging through only one twin.
So doctors decided to wait for them to get bigger for the separation surgery.
Now 18, the girls are happy and thriving and are all set to graduate as co-valedictorians from Lutheran High North in Houston.