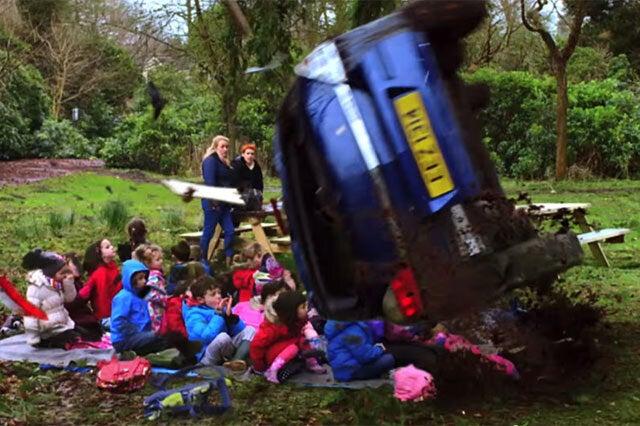 A disturbing road safety advert which shows a class of schoolchildren crushed by an out-of-control car has been launched in Northern Ireland.
While a ethereal acoustic version of Guns N' Roses 1988 hit Sweet Child O' Mine plays in the background, the ad shows a classroom of schoolchildren preparing for a class trip and heading out into the woods.
Elsewhere, a man leaves his house and gets into his car. As he speeds dangerously fast along a country road, the schoolchildren are shown exploring the woods, having fun with fishing nets and magnifying glasses, before sitting down together to eat.
The two scenes converge in a shocking moment, as the speeding vehicle spins out of control and smashes through a wall, flipping in mid-air and landing in the middle of the party of children, crushing them.
A caption then appears, reading 'shame on you', while a narrator explains that 'since 2000, speeding has killed a classroom of our children' and warns that 'you can never control the consequences if you speed'.
The distressing advert - produced by the Northern Irish government - has already been viewed more than 1.5 million times on Youtube, and has made headlines around the world, with journalists and bloggers dubbing it one of the most shocking public information films of all time.
Story continues below the video...
This isn't the first road safety advert to cause a stir. Back in January, a New Zealand ad depicting a conversation between a speeding driver and his victim, who pleads 'I've got my boy in the back' before their cars collide made the international press.
And of course, most Brits haven't forgotten the immensely disturbing 'it's 30 for a reason' advert which aired in the mid-2000s, showing a little girl hit by a car before rising back to life, bones cracking into place, to warn us about sticking to the speed limit.
The message is undeniably important, and one which needs to be understood by all drivers. But does this advert go a step too far with its gruesome portrayal of a fatal collision involving young children?
In any case, it's certainly no surprise that the advert will only air after the 9pm watershed.