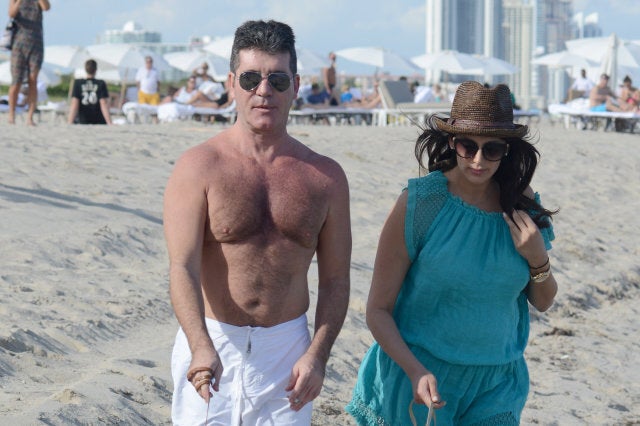 Simon Cowell has appeared on television talking about his son Eric for the first time since the Valentine's Day birth.
He sat down with US TV show Extra's entertainment correspondant Terri Seymour - who, in a bizarre twist, he dated from 2002 to 2008 - to talk about the lead-up to the birth and what the new family have been up to since then.
When New York-based girlfriend Lauren Silverman went into labour, Simon was in England filming the latest series of Britain's Got Talent and had to abandon the set to rush to her hospital bedside in the US.
"I had one more audition day to go," he recalls. "I said 'your timing is immaculate'... We had to find a flight, which I did, and I got there with two hours to spare."
"I actually said to Lauren beforehand, 'What if I like the dogs more than him?'," Cowell confessed. "She said, 'You're gonna be absolutely fine.'"
i
Simon quickly realised he had no reason to worry about bonding with baby Eric. "I was born to be a dad," he told Seymour.
i
When asked by Seymour if he had cried at the birth, notorious grouch Simon laughed sheepishly and admitted, "Yeah, I did."
He also revealed that Eric, who has been pictured sleeping peacefully in all his public appearances so far, is indeed as good as gold. "Lauren's been crying more than Eric," Cowell said, joking that he had to give her a pacifier.
The family will soon be heading back to the UK to give grandma Julie - Simon's mother - a chance to meet her grandson. Julie was 'very touched' when the couple told her that he was planning on naming the baby after his dad, Eric, who died in 1999.
The couple had previously planned on calling the new arrival 'Simon', but Cowell chuckled as he admitted they changed their minds, "We both said 'this is not a good idea'".
He told Seymour that he is much happier with the name Eric Phillip, a moving tribute to his father. "I look at him and think of my dad all the time."