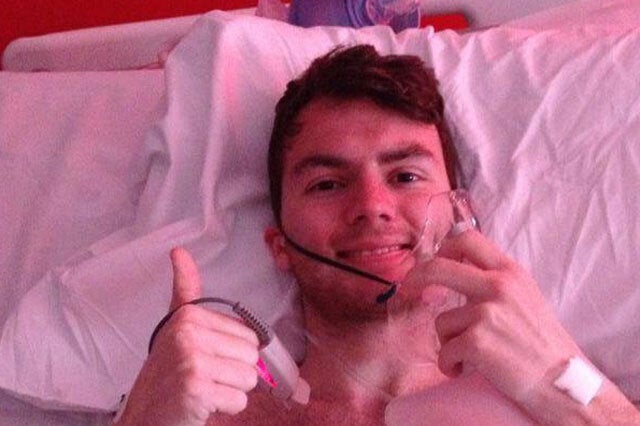 Stephen Sutton, the teenager who raised more than £3m for charity, has died.
Writing on his Facebook page, Stephen's Story, the 19-year-old's mother wrote: "My heart is bursting with pride but breaking with pain for my courageous, selfless, inspirational son who passed away peacefully in his sleep in the early hours of this morning, Wednesday 14th May.
"The ongoing support and outpouring of love for Stephen will help greatly at this difficult time, in the same way as it helped Stephen throughout his journey.
"We all know he will never be forgotten, his spirit will live on, in all that he achieved and shared with so many.
Stephen, from Burntwood in Staffordshire, was diagnosed with bowel cancer when he was 15.
Despite treatment the tumours spread, with doctors telling him the disease was terminal in 2012.
Hundreds of thousands of people have supported his fundraising efforts for the Teenage Cancer Trust since he posted a picture of himself in hospital in April with a goodbye message as he thought he was nearing death.
Among them was Prime Minister David Cameron.The amount raised totals £3.24m to date.
This morning, Mr Cameron Tweeted his condolences.
Stephen was re-admitted to hospital on Monday after having previously been discharged when it appeared he had made a 'miraculous recovery' by coughing up a tumour.
At the time he revealed that he was suffering from breathlessness and said doctors thought there was something blocking his airway.
​He wrote on Facebook: "The doctors think there may be something restricting my airway again, they're not sure exactly what yet though (tumour regrowth, infection, inflammation, are all potential reasons mentioned), but are currently discussing the possibilities and my scan results to decide what to do next."
His family had left a message on his Facebook page last night saying that because tumours had regrown in Stephen's airwaves, the 19-year-old was too sick to continue posting messages.
The message also called for privacy so his family could focus on the remaining time he has with them.
Stephen's death was greeted with an outpouring of emotion from Twitter users. Thousands took to the social network to express their condolences, with politicians and celebrities echoing their sentiments.
RIP Stephen Sutton. A true hero & inspiration to us all.