When: Thursday July 31 - Sunday August 3
Where: Lulworth Castle, Dorset
Musical highlights: Basement Jaxx, De La Soul, the brilliant Chas and Dave
Cost: Weekend ticket including camping is £195 for adults, £113 for teens aged 15 to 17, £88 for 11 to 14-year-olds, £20 for five to 10-year-olds and free for under-fives.
What is there for families?
Absolutely loads, and no wonder - Camp Bestival was designed as a family-friendly sister festival to Bestival. Workshops teaching circus skills and woodcraft, live performances from TV hit Horrible Histories, and bikes, go-carts, games and fairground rides to keep even the most hyperactive kid entertained.
Best for: At the moment, Camp Bestival remains particularly strong for families with young children, although this year organisers are attempting to increase the provision for teens.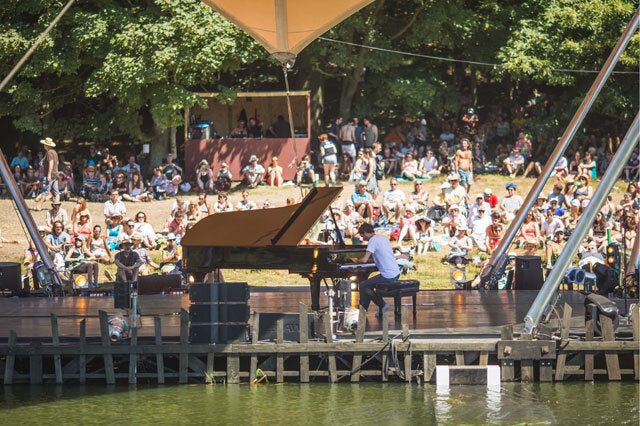 When: Thursday July 17 - Sunday July 20
Where: Southwold, Suffolk
Cost: Weekend ticket including camping is £187.50 for adults, £132.50 for teenagers up to 15, and £8 for children aged five to 12. Under-fives go free.
Musical highlights: Damon Albarn, The Black Keys, Editors
What is there for families?
The emphasis is on making the most of the gorgeous Suffolk countryside, so kids can explore the lake with pond-dipping sessions, take bushcraft classes in the woods and get creative at crafting workshops using natural materials.
Teens are catered for, too, with media, music and design workshops teaching skills from beatboxing to comic book drawing to music production in their own teen zone set apart from the younger children.
Best for: There are tons of activities for kids of all ages, but we think this one is particularly great for outdoorsy families and kids who are passionate about getting up close and personal with nature.

When: Wednesday July 16 - Sunday July 20
Where: Larmer Tree Gardens, Salisbury, Wiltshire-Dorset border
Cost: A three-day ticket with camping is £160 for adults, £105 for 11 to 17-year-olds and £60 for children up to 10. Under-fives go free.
Musical highlights: Tom Jones, Frank Turner, Stornoway
What is there for families?
Crafts, drumming and dance are on offer to keep the younger ones busy, while older kids might fancy helping make costumes and props for Sunday's carnival parade. There's a separate zone for teens, where they can learn skills like juggling and streetdance or just chill out away from mum and dad.
Best for: All ages are catered to, but the chilled-out atmosphere is particularly welcome for stressed-out parents of young children, as well as for teens who just want to hang out in peace.

When: Thursday June 12 - Sunday June 15
Where: near Newport, Isle of Wight
Cost: Weekend ticket including camping is £170, while a day ticket is £70. Children under 12 go free.
Musical highlights: Red Hot Chili Peppers, Kings of Leon, The Specials
What is there for families?
A dedicated kids zone featuring tons of live music, comedy and theatre performances, as well as circus skills sessions and craft workshops.
Best for: Why not combine a day at the festival with a beach holiday? The Isle of Wight is home to 14 award-winning beaches. If you can't quite face a whole weekend of festival frolics, this could be the ideal solution.

When: Thursday August 14 - Sunday August 17
Where: Black Mountains, Brecon Beacons, Wales
Cost: An adult weekend ticket including campaign is £159, a teenager will cost you £85, while kids aged five to 12 get in for a fiver. Under-fives go free.
Beirut, Neutral Milk Hotel, Mercury Rev
What is there for families?
There's a dedicated kids' area around the theme of the Enchanted Forest, which boasts giant toadstools and mysterious woodland creatures. Professional entertainers are on hand to provide games, workshops and performances to keep the younger ones busy all day.
Best for: Hippies at heart who want to raise a new generation of flower children. The mystical, Celtic-tinged vibe and the astounding mountain setting make this a truly unique experience.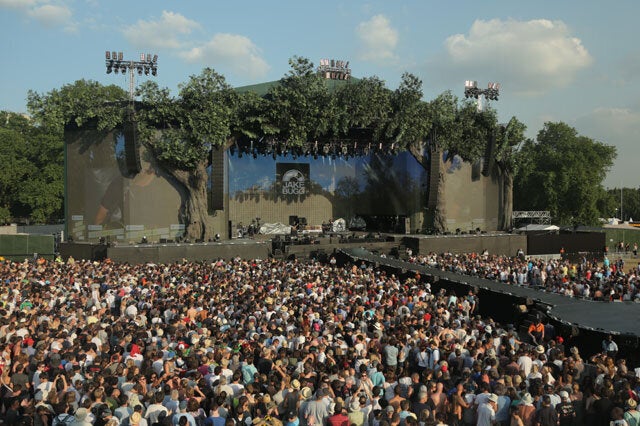 When: Thursday July 3 - Sunday July 13
Cost: Ticket prices vary, with a family ticket for a day priced at £90. Under fives go free.
Musical highlights: Arcade Fire, Tom Jones, Neil Young
What is there for families?
Young guests will be entertained by activities and shows from a range of special guests including Hello Kitty, The Mr Men and Little Misses, Shaun The Sheep, and Go!Go!Go!, as well as theatre performances from the brilliant Horrible Histories gang (parents, you might want to sneak into that one).
Best for: An ongoing series of concerts and events spanning two weekends, this is perfect if you want a bit of flexibility. And with acts from McBusted to Black Sabbath, there should be top-drawer music to suit all possible tastes.

When: Friday July 4 - Sunday July 6
Where: Paddock Wood, Kent
Cost: Weekend family ticket for two adults and two children including camping is £330. Children under 12 go free.
Musical highlights: Brian Wilson, James Blunt, Deacon Blue
What is there for families?
There is the usual array of games and activities, including a couple of unusual ones such as pottery making. But the real standout is the Vintage Funfair, where kids can ride beautiful old-fashioned carousels and helter-skelters which are sure to have the older generation misty-eyed with nostalgia.
Best for: Most of the musical acts on offer are as vintage as the funfair, so you might want to give it a miss if you have a tween or teen in an 'everything mum and dad like sucks' phase. Younger kids will bop along to the sounds of Deacon Blue or the Beach Boys without judgement, however (as well they should).

When: Friday August 29 - Sunday August 31
Where: Alex James' farm, Kingham, Oxfordshire
Cost:Weekend ticket including camping is £140 for adults, £74 for teens, and free for under 12s.
Musical highlights: Fatboy Slim, Jamie Cullum, De La Soul and legendary ABBA tribute Bjorn Again
What is there for families?
The Big Feastival is all about food, farming and sustainable living, so there are opportunities for kids to get their hands dirty on the Potato Patch and then cook up a storm with the fresh produce in the Family Kitchen. There is also a funfair, 'Little Dudes Den' play area and special visits from CBeebies stars Mr Bloom and Justin Fletcher.
Best for: There are as many chefs on the bill here as there are musical acts, so if you and your family are passionate about home-grown produce and top-notch cooking, you won't find a better festival experience. Eat, drink and be merry!

When: Friday July 4 - Sunday July 6
Where: Over Farm, Gloucestershire
Cost: Weekend ticket including camping is £80. Children under 10 go free.
Musical highlights: Hozier, Dan Croll, Chloe Howl
What is there for families?
This one is really about the music and the down-on-the-farm vibe, so families will have to make their own entertainment. On the bright side, this shouldn't be too hard -, this is a proper farm festival, so in just a few minutes you can be out enjoying the peerless Gloucestershire countryside.
Best for: Music aficionados who want to get ahead of the crowd. Barn on the Farm's lineup might seem low-key, but in the past few years it welcomed artists like Ed Sheeran, Ben Howard and Bastille before they became household names. So if your family is into new artists and a relaxed, folky vibe, this is the one for you.

When: Saturday June 7 and Sunday June 8
Cost: You can still get Early Bird weekend tickets for £27.50, while a weekend ticket with three nights camping will set you back £65. Under 16s can get in for £12.
Musical highlights: Grandmaster Flash is the one to watch! Sam and the Womp, Zion Train ann De La Soul's DJ Maseo will also be on hand to keep the party going.
What is there for families?
The beach, of course! The big attraction of this festival, aside from the music, is that it takes place on one of Cornwall's gorgeous sandy beaches. Surfing company O'Neill's are sponsoring the event this year, so look out for some displays of the sport's biggest talents.
Best for: Families with teenagers, who are sure to enjoy the beach party atmosphere (although given Newquay's reputation for nightlife, you might want to keep an eye on them to make sure they aren't enjoying it just a little too much!).

When: Friday August 1 - Sunday August 3
Where: Stephen Park, Forest of Bowland, Lancashire
Cost: A weekend camping ticket will set you back a very reasonable £80. And even better, under 16 tickets are priced at just £3.
Musical highlights: John Bramwell of I Am Kloot, Kid Canaveral, The Leisure Society
What is there for families?
Set in the breathtaking Forest of Bowland, there's no shortage of incredible scenery for family walks. If you need a bit of alone time, however, festival organisers will be running climbing, archery and bushcraft sessions for youngsters.
Best for: The festival's founders say they wanted the create an intimate and affordable festival that could be enjoyed by young families without the stresses of big crowds and sprawling sites. If that sounds up your street, and you like innovative indie music, this could be a winner.

When: Friday June 20 - Sunday June 22
Where: The Alma Inn, Ross-on-Wye, Herefordshire
Cost: A three-day ticket will cost £72. Under 14s go free with an accompanying adult.
Musical highlights: Geno Washington, Bernie Marsden, Vintage Trouble
What is there for families?
There don't appear to be any organised activities for kids, although they are welcomed. But the festival takes places in the grounds of the Alma Inn, set in miles of stunning countryside, so there's plenty of room for kids to play in the 'wild' while still in sight of mum and dad.
Best for: The lack of organised activities mean that this one might be more suited for slightly older kids who can make their own fun. As for the adults, the vast array of real ales on offer, as well as sponsorship from cider giants Westons, makes Linton a real treat for connoisseurs.

Where: Lloyds Amphitheatre, Bristol and Albert Square, Manchester
When: Bristol - Saturday 7 June and Sunday 8 June, Manchester - Saturday 28 June and Sunday 29 June
Cost: Tickets are £12, and under 12s go free. Saturday tickets have now sold out, but tickets for Sunday are still available.
Musical highlights: The musical theme here is down 'n' dirty American South. Hayseed Dixie lead the Sunday lineup, supported by blues, rock, Cajun and bluegrass sounds to get you in the mood for a plate of ribs.
What is there for families?
A dedicated kids area will be running activities all day, with treasure hunts, craft tents and street performers to keep younger ones entertained. And all the family are bound to enjoy watching the chilli eating competition, featuring some of the hottest chillis in the world. Phwoar!
Best for: If you fancy a taste of the festival atmosphere, but the thought of camping makes you physically ill, this is a great one-day orgy of music and meat. The redneck vibe and ingenious fusion of Southern-fried rock and delicious barbecue makes Grillstock unlike anything else. Tuck in!