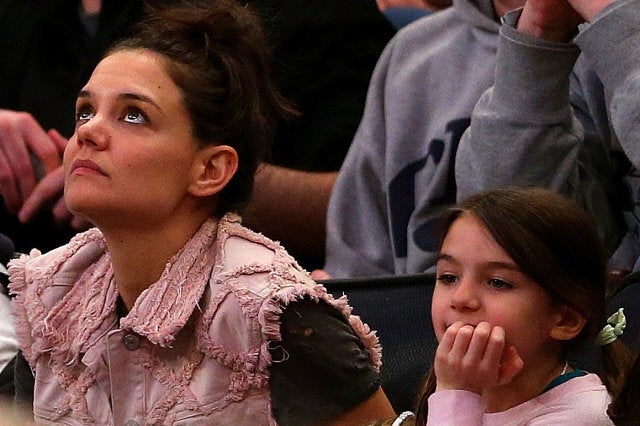 Suri Cruise might be the glamorous offspring of Hollywood stars Tom Cruise and Katie Holmes, but the precociously on-trend youngster has reportedly shown that she's a typical tween by declaring her love for One Direction - and begging her famous mum to arrange a meeting!
Suri, who will turn eight in April, has apparently developed a huge crush on the British boy band, who have sparked a worldwide craze since winning The X Factor in 2010 which has been compared to the 'Beatlemania' phenomenon of the mid-Sixties.
"Suri is so obsessed with 1D that she's begged Katie to get their autographs and use her celebrity status to meet them," according to an anonymous tipster in Heat magazine.
So when Suri heard mum Katie, 35, would be starring in the upcoming film The Giver alongside country-pop princess Taylor Swift, she was quick to come up with a plan of action to achieve her dream of meeting the boys.
"She wants Katie to ask Taylor to arrange a meeting, since she knows that she used to date Harry Styles," the inside source revealed.
Taylor and 1D frontman Harry had a brief but highly-publicised tryst in 2012, which ended in heartbreak for the Nashville songstress, whose hit single 'We Are Never Getting Back Together' was allegedly written with Styles in mind.
However, it seems that despite the awkward break-up, Taylor might be able to help Suri meet the object of her affection after all. She was spotted having a friendly chat with Harry, 20, at Hollywood mogul Harvey Weinstein's pre-Oscars party earlier this month.