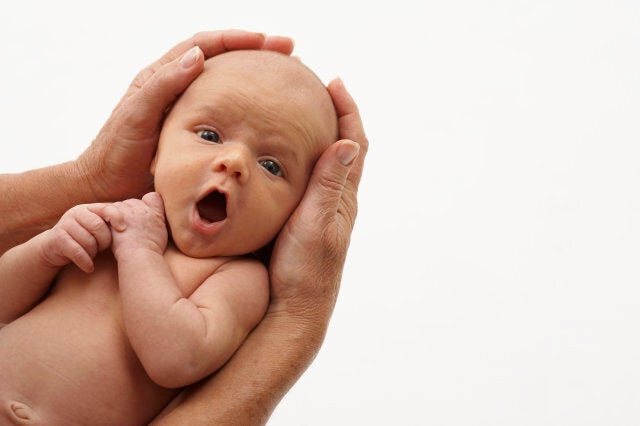 When Catherine Urch, 22, began suffering from an agonising pain in her stomach, her boyfriend John Parkins called an ambulance, thinking she was suffering from a kidney stone.
The young couple, who had been together for just over two years, had no idea that they were about to become parents.
Catherine was examined by a doctor at Coventry University Hospital, who told her she had a hardness is her stomach, which could be caused by one of three things: acute constipation, a urinary tract infection, or the beginnings of an ectopic pregnancy.
"The doctor left the room and told me to sit on the commode," Catherine told the Coventry Telegraph. "As I sat down, I thought, 'That's not right'.
"I immediately turned to John and said, 'Get me a doctor - now!' A nurse came in and said, 'I'm going to need a midwife.' That's when I realised something was going on."
Just five minutes later Catherine gave birth to a baby boy, who weighed just 4lb 9oz. The surprise delivery almost proved too much for John.
"It went blurry, and I almost fainted," the 23-year-old said. "They showed me this baby, and doctors and nurses were saying 'this is your son', and I went into shock."
The new parents were completely caught off guard, as Catherine had not put on weight, she had been having regular periods and was taking the contraceptive pill.
"We had no idea until the baby's head was coming out," John said.
It is believed that the couple's son, who they have named Samuel Edgar, was born eight weeks prematurely.
"I'm shocked by what happened but I'm over the moon," said Catherine. "I think that we are extremely lucky and he is a little miracle."
The new addition to their family has meant that Catherine and John have had to rethink their living arrangements, as John currently lives in Burnley, while Catherine lives with her parents in Coventry.
Samuel is currently in the hospital's special care unit, where he's doing well.
"We'll be able to take him home properly soon," said John. "And by then, we might be a little bit more ready."