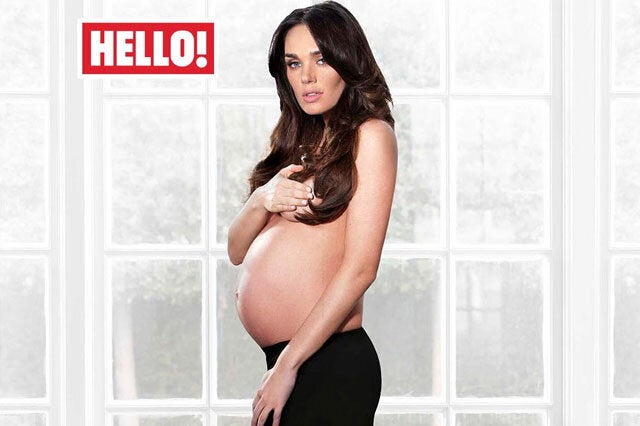 The 29-year-old daughter of billionaire Bernie Ecclestone is expecting a baby girl with her businessman partner Jay Rutland.
She adopted the pregnancy pose favoured by every schleb since Demi Moore, with her arm covering her breasts, for a shoot with Hello! magazine.
In the accompanying interview, first-time mum Tamara revealed she prefers to slump in her pyjamas than buy maternity clothes.
She said: "During my pregnancy, it's been my favourite thing to come home at whatever time of day and change into my PJs.
"I haven't bought any maternity clothes - I just wear my stretchy garments or buy the next size up. "I've been lucky because I've not grown that big. All my rings still fit and I can wear my heels."
She said dad Bernie, the F1 supremo, was among the first people to be told a baby was on the way.
She said: "Dad said 'of course, another girl in the family - more handbags'. He loves kids.
"It might sound crazy, but I feel in tune with my baby and talk to her all the time. I know she can hear me, so she'll definitely recognise my voice when she's born."
She added: "I suspected that I might be having a girl because my pregnancy symptoms were exactly the same as my sister Petra's when she was expecting my niece Lavinia.
"When we were told it was a girl, I was very happy. It's my dream that my girl and Lavinia will grow up to be as close as Petra and I are."
She said Petra had been 'amazing', adding: "I don't want her to go home, ever... I used to choose gifts for their cuteness factor for Lavinia because I didn't know what babies need, but Petra's practical and helpful.
"She also organised my baby shower and sent out these wonderful invitations - gold rattles - in pink boxes."
The revealing shoot comes just days after Tamara complained about the country's 'vicious attitude' towards heiresses like herself.
She told the Evening Standard: "I think there is a vicious attitude towards anyone who has inherited anything. I also think there's a vicious attitude towards people who became successful in an unconventional way - like my dad, who left school without A-levels.
"I do think that [society is unequal]. But I think even if that weren't the case there'd be jealousy and envy. Maybe it's just human nature.
"I don't think it all stems from the economic climate. I think a lot of people have to bring other people down to make themselves feel good - and I think that's sad." Read the full interview in the new issue of Hello!