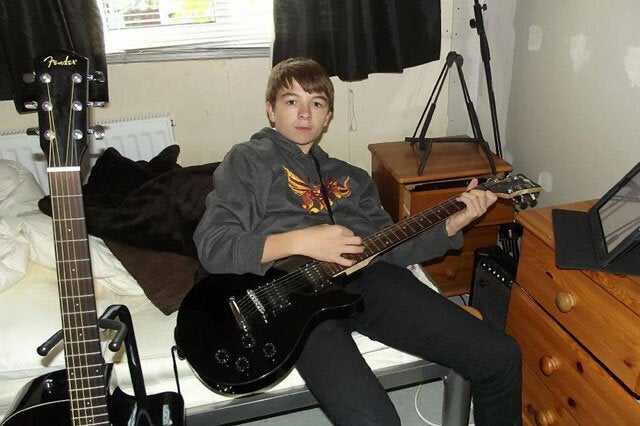 A teenage musician bullied over his singing on YouTube was found hanged after writing a final message in dust on his bedroom window.
Martin Holder,16, wrote on the glass window pane: "The darkness ahead is not what you imagine".
The message that could only be read when the sun shone into his bedroom, where he was found hanged days later.
An inquest heard how Martin had uploaded videos onto YouTube of himself singing, but he removed the films after receiving derogatory comments.
His mum said she believes her son was the victim of 'severe' bullying on and offline.
Marj Hamlett-Hughes, 42, from Lynworth, Gloucestershire, said: "It was not just his size and his singing. They would pick up on something and see his reaction.
"He was seen as an easy target. He was a sensitive kid.
"They would take his bag, throw it down the corridor or in a tree; they would take his lunch and do the same.
"They'd rip his blazer too. They would pick on anything and everything as long as he gave a reaction. It was physical, mental and cyber."
Two days before Martin was found dead he left dad Colin Holder's house, but turned back to give him a cuddle.
Mrs Hamlett-Hughes told the inquest: "This was out of character, almost as if he had made up his mind to end it all and wanted to give his father a final hug."
She added: "Colin and I believe that Martin intended to end his life although we acknowledge he did not leave a suicide note.
"Having said that, Martin did write a message in the dust on the inside of the window of his bedroom.
"I acknowledge that Martin wrote things and songs previously which also expressed dark views and cryptic messages."
Recording an open verdict, deputy Gloucester coroner David Dooley said: "He had a lot to put up with over his school years and developed a thick skin.
"It damaged his self esteem, although it is tenuous to say this was the cause of the death."
But after Tuesday's ruling, Mrs Hamlett-Hughes said the coroner was 'dismissing' the bullying her son suffered, 'saying that's how kids toughen up'.
She said: "It wasn't like that for Martin. He was being bullied in every way.
"The coroner said the bullying had stopped, that's not right, he just lost faith in the system to report it because nothing was being done.
"People need to know what bullying can lead to. It can lead to self harm, it can lead to suicide.
"People need to be made aware of how words can hurt, it is no the longer sticks and stones rhyme, these names can hurt.
"Bullying is a 24 hour thing now, kids can't escape it, it needs to be stopped."