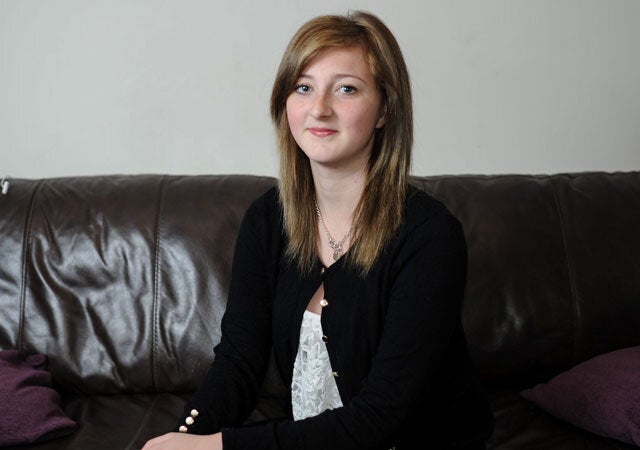 A teenager forgot the first 16 years of her life after she had a seizure.
Rosie Paley, 19, from Brierley Hill, West Midlands, developed encephalitis, which causes inflammation of the brain.
When she woke up in hospital, all her childhood memories were gone and she didn't even recognise her two young brothers and mother.
She lost memories of every milestone from her childhood, and even forgot her favourite foods, bands and the fact she knew how to ride a horse.
Three years on, she is trying to piece her childhood memories back together, using photographs, stories and childhood toys for help.
Rosie said: "When I look back at pictures I can see I had an amazing childhood. I just wish I had memories to go with the pictures."
Rosie can now recognise her mother Helen, 36, and her brothers Rhys, four, and Ollie, two, but she has lost her childhood friends, as she can't remember any of them.
Rosie had been out for the day in with her boyfriend in August 2011 when she suddenly collapsed and developed encephalitis, which is caused by the herpes simplex virus - the same bug responsible for cold sores and chicken pox.
However, doctors were baffled as she showed no symptoms prior to suffering a seizure.
Normally, patients develop flu like symptoms before suffering a seizure. She was taken to hospital but despite recovering, her memories had gone.
Mum Helen said: "Rosie woke up and looked at me with a blank expression and said: 'Who are you?'
"I was heartbroken and terrified."
She added: "I thought she would never remember me. Luckily after a few hours she began to recognise me and even asked for her favourite childhood teddy bear, Baa lamb, which is still the only thing she remembers.
"I tried to surround her with family and things that she might remember but she didn't even recognise her two younger brothers.
"We even took her to a Steps concert, as they were her favourite band, but she couldn't recognise any of the songs."
In an attempt to jog her memory, Rosie has surrounded herself with old pictures, creating a wall of photographs in her bedroom.
She said: "When I looked at the pictures I could see how happy I was at the time but it just draws a blank in my head as I can't think of the actual event or how I was feeling at the time.
"Most people my age look back at high school as the best years of their life but I can't do that, I can just look at the pictures and imagine what it must have been like."
The teenager, who also now suffers with short term memory loss, has to write down instructions for her bus journey to work as well as reminders to help her complete everyday tasks.
Ava Easton, chief executive of the Encephalitis Society, said 4,000 new cases of the condition are identified every year in the UK.
She said: "The causes include infection, and the immune system going rogue and attacking healthy tissue.
"It is the herpes simplex that is most likely to attack the parts of the brain responsible for memory.
"Of those people who survive encephalitis - the mortality rate is 80 per cent without swift treatment - seven out of ten respond to the anti-viral drug Aciclovor, ideally if it is given with 24 or 48 hours.
"However, those whose memory has been attacked are unlikely to recover in that respect, although what sufferers can develop is better ways of coping with their condition."