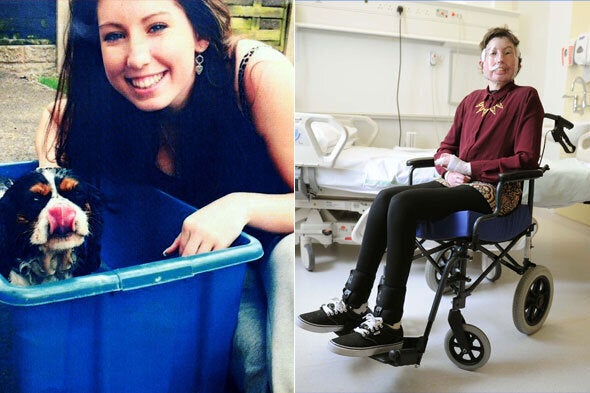 A teenager, who is the world's first adult to survive 96 per cent burns, has spoken about her struggle to overcome odds of 1000 to one to stay alive.
Catrin Pugh, now 20, was pulled from the wreckage of a coach that was enveloped in a fearsome fireball after it crashed in the French Alps last April.
Only the soles of her feet and parts of her scalp were not burned in the ordeal.
Now, after three months in a coma and more than 200 operations, Catrin has spoken for the first time about what she has been through this past year.
"It's been really horrible," Catrin, from Wrexham, north Wales said. "I woke up from the coma after three months not knowing where I was or what had happened. At first, I thought I'd never get better and there was no future for me.
i
But I would say to anyone faced with big hurdles in their life, remember there's an upside to everything and a silver lining around the corner.
i
"Make sure you listen to your friends and family when they are telling you it's going to be OK."
Catrin was returning home after a stint working in a hotel in the Alpe d'Huez ski resort when the brakes failed on the coach she was travelling on and it crashed into the mountainside.
The coach driver, Maurice Wrightson, was hailed as a hero for managing to steer the out-of-control coach away from a nearby cavernous ravine. He died when the fireball swept through the front of the bus.
Two other Britons were also critically hurt in the accident and a total of 23 out of the 52 passengers were left with injuries.
Catrin's memory of the crash is hazy:
"I remember the coach going up in flames," she told the Liverpool Echo. "Being on the roadside, calling out that I was in pain, and somebody translating what had happened in French; Then I passed out."
​Catrin remained on a life support machine for 90 days following the crash. Her ongoing treatment involves skin grafts, using skin taken from her mother and brother's thighs, as well as skin that is artificially grown in a laboratory.
Despite the traumas she has endured, Catrin has remained positive, earning her the nickname 'the girl with the million pound smile' among staff at Whiston Hospital in Wirral.
Catrin was visited in hospital by fellow burns survivor Katie Piper, who offered words of support. Catrin has re-learnt how to walk, as well as how to complete everyday tasks such as making a cup of tea, making meals and getting washed.
Before the accident Catrin had been planning to go to Manchester University to study event management. She still hopes to go onto further education, and to pursue a career as a teacher or in the music industry.
Her father, Carl, 53, has spoken of his pride for his daughter's inspirational positivity.
The family is taking legal action against the coach company for failure to maintain their vehicle correctly.