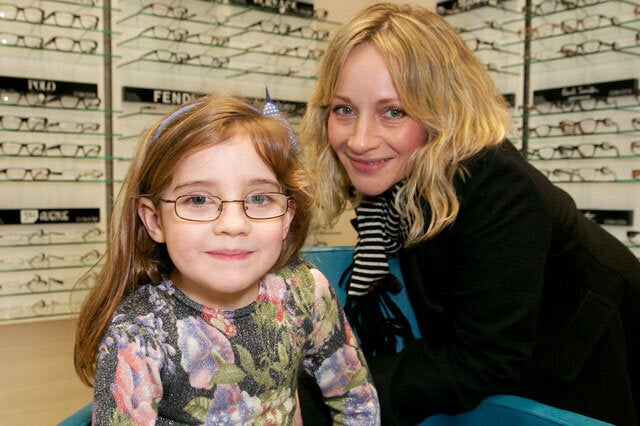 Actress Kaye Wragg has revealed how her five-year-old daughter Matilda was diagnosed with a plum-sized brain tumour after a routine trip to get her eyes tested.
Kaye, who played PC Diane Noble in The Bill and will soon star in Holby City, took Matilda to the opticians in November.
But the girl was unable to read even the biggest letters on the chart. The optician then checked the health of Matilda's retina and found signs of raised pressure within her brain.
She was immediately referred to hospital where a CT scan revealed a the large tumour behind Matilda's left eye, inside her skull.
She'd had no symptoms except for a sore neck, which her parents presumed was due to a muscle strain caused in gym class.
Three days later Matilda had an eight-hour operation at Great Ormond Street Children's Hospital to remove the tumour. And now, after a slow recovery, surgeons believe the entire tumour was removed.
Mercifully, Matilda won't need radiotherapy or chemotherapy because the tumour was low grade.
Kaye, from Hendon, north London, was so overwhelmed with gratitude to the optician, Manpreet Bahra, who discovered Matilda's tumour that the family, including three-year-old sister Molly, visited Brent Cross Vision Express to present her with a hand-made card.
Kaye said: "It was extremely emotional to see Manpreet at the store, because it is thanks to her identifying the condition that Matilda is now in good health.
"In fact, the doctors told us it had probably been there for a very long time, possibly since birth, so she will be feeling better now than she ever has.
"Had her tumour not been picked up during Matilda's eye exam, it would definitely have grown bigger, causing her more problems due to the pressure it built up by blocking the flow of spinal fluid through the brain canals. So detecting it through an eye test at Vision Express was crucial, and we can't thank Manpreet enough."
The family are keen to use their experience to drive home the importance of child eye tests, as NHS figures reveal a 10 year low in eye test rates for under-16s.
Kaye's husband, Jamie Darling, who presented Animal Hospital, said: "If there is one message we'd like to give to parents based on our horrific experience it is simply to make sure your child has a regular eye test.
"Eye exams can detect so much more than just vision problems, and we've learned that they're one of the most common ways brain tumours are picked up.
"Thanks to an eye test at the right time, our daughter has a new lease of life – but without going into Vision Express that day, our story could be very different."
Manpreet said: "I was extremely saddened to hear that following my referral a tumour the size of a plum had been found behind Matilda's eyes.
"When the Darling family came into the store with a hand-drawn card from Matilda, I was very touched to receive such a gift.
"Kaye and Jamie explained Matilda had made a full recovery, she was even running around in the park. "It was emotional seeing the family knowing what they had been through, however I was very pleased to hear that Matilda is fit and healthy again."
To drive home the importance of eye health, Vision Express this week launches a health campaign called 'Vision. Taken Seriously.'
It calls on the UK to act now to avoid preventative sight loss, which affects 2 million people in the UK, urging the public to have an eye test at least every two years.