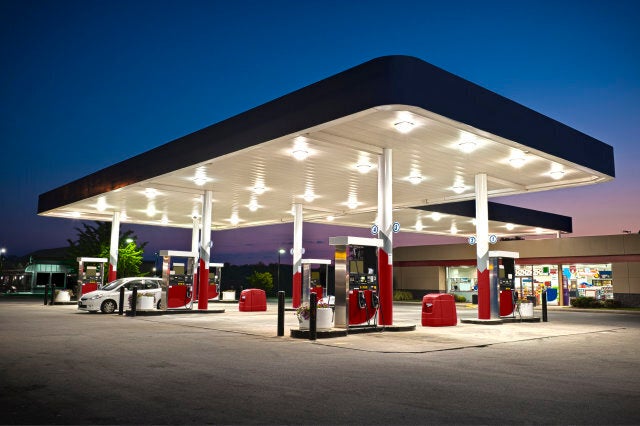 A mum has described the terrifying moment she came out of a petrol station shop to find her car gone - with her eight-year-old son inside.
The hair-raising drama unfolded in the quiet village of Revetal, Norway, where mum-of-four Kathleen McKechnie Skifjell, originally from Blair Drummond near Stirling, lives with her children.
Kathleen had parked up on the forecourt of the Statoil petrol station to grab a bottle of water, leaving the car unlocked. But when she returned, minutes later, her car had disappeared with son Scott still dozing on the backseat.
Kathleen, 53, quickly informed police, who scoured the area with the help of concerned locals while the distraught mother waited for news of her son's whereabouts.
And because her mobile phone was in the stolen vehicle, leaving her unable to contact family, Scott's terrified siblings learned the news of their brother's abduction on local media.
After what Kathleen described as the 'longest hour' of their lives, a local couple notified the police that Scott was at their house, confused but none the worse for his unwelcome adventure.
"I had fallen asleep in the car, and then I woke up to find a man telling me to get out," Scott later explained on national radio. The thief stopped the stolen vehicle in front of a house and told the youngster that his mother was waiting for him inside.
The concerned inhabitants of the house called the police and Scott was finally reunited with his anxious mum.
"He was obviously an opportunist who just wanted my car," Kathleen told the Daily Mail. "He must have got the shock of his life when he found Scott sleeping in the back." The car was later found, abandoned, nearby.
Speaking to a local newspaper, Kathleen even acknowledged she was 'grateful' to the thief, who she says took a risk by dropping the boy off in a residential area and reassuring him that his mother was nearby. "He could have just left him in the middle of the road," she said.
A man was arrested in connection with the car theft and inadvertent kidnapping shortly after the incident. A police spokesperson confirmed that it was not believed to have been the suspect's intention to abduct a child.