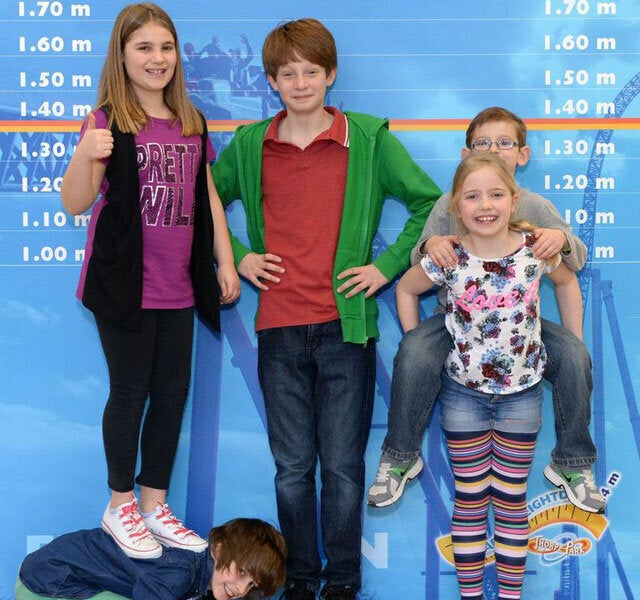 Becoming tall enough to go on a theme park rollercoaster is one of the milestones of a child's life, according to new research.
And today's children don't have to wait as long as previous generations. The average age in the UK for children to reach 1.4m (4ft 7in) is 10 years old, compared to 13 in 1911.
The research, by THORPE PARK Resort found that an overwhelming majority of children (70%) said they'd like to go to a theme park when asked how they'd like to spend the day with family and friends.
But nearly half said they would be disappointed if they weren't tall enough to ride the most thrilling roller coasters when visiting one.
Now THORPE PARK is celebrating the milestone with Happy Height Day when it re-opens for the new season on March 20.
The theme park is offering free admission to the first 500 children who measure between 1.4 and 1.5m plus a guest on both Saturday March 22 and Sunday March 23!
Jason Wills, THORPE PARK Resort Marketing Director said: "We see so many excited kids every year who have just reached 1.4m and are now tall enough to have the ride of their lives. We're championing this achievement with our Happy Height Day, and celebrating the moment these kids experience a whole new world of thrills!"
My own stepdaughter had to wait until she was 11 before she reached the happy height. But when she did, her mum and I treated her and two (tall-ish) friends to a day out at THOPRE PARK – on condition that she wrote this review.
So here it is, in my stepdaughter's own (un-edited) words:
Top 10 THORPE PARK experiences (in reverse order) through the eyes of an 11-year-old
"For my birthday treat I went to THORPE PARK, with my mum and my friends Tilly and Eve. It was a fantastic day with rides everywhere and thrills all over the place and my friends and I enjoyed it a lot.
I am a big fan of rollercoasters and THORPE PARK has plenty but if rollercoasters aren't your thing, they have some other amazing thrill rides. Here are some of my favourite rides and best parts of the day. I did not include the amazing thrill rollercoasters, as we did not ride them!
10. At number 10 is Depth Charge, which is a four lane super slide. We raced each other all the way down to the bottom, shouting random things at the top of our lungs! It was fast and fun and that is why it takes the 10 spot on the countdown list. The wait time was about 10 minutes.
9. Taking the number nine place is Flying Fish. It is a mini rollercoaster and although it was fun, it is mainly for younger riders. We chatted, waiting for it to speed up and when it did we were so shocked that all we could do was laugh. The wait time was five minutes.
8. The number 8 thing is not actually a ride; it is the arcade games and stalls. These were great and although we weren't very good we still had a great time. We also tried the hamster balls and we couldn't stand up. We laughed at each other attempting to stand up on the water.
7. In at seven is Logger's Leap which, is a log flume with two drops. We rode this one twice as it was fun and we wanted to get a better ride picture! Along the way Tilly was obsessed with counting the bears and when it went all dark in the tunnel we thought we were just going to drop! On the last descent, Eve's poncho hood flew in front of her face! The wait time was about 10-20 minutes.
6. Number six is Storm Surge and it was the first ride we went on. It was Tilly's favourite and a great way to start the day. Storm Surge is a massive rubber ring that goes down a massive slide! The wait time was about 10 minutes.
5. Coming in at five is Tidal Wave. You go up and up and up and then suddenly plummet down into a huge pool of water! We got soaked but when the next Tidal Wave riders came down, we stood there and let them soak us! The wait time was about five minutes.
4. In the number four spot is Zodiac. Now I love this ride and I rode it twice, twice with Eve and once with Tilly. We screamed one the whole ride. It defies gravity, going completely vertical! The wait time was about 15 minutes.
3. Blasting in at three is Quantum. I love this ride so much and we rode it three times. On the last time I hit my leg and Tilly and Eve laughed at me! The ride goes up and down and all around. The wait time was about 5-10 minutes.
2. Swinging in at number two is Vortex. I love Vortex and for me it was the ultimate ride! You spin while you swing up and down, higher and higher. Tilly screamed on the whole thing, which was no surprise to Eve and I. The wait time was about 20 minutes but well worth it.
1. Now for the ULTIMATE thing at THORPE PARK comes as no surprise as it is, THORPE PARK itself. Just being there is an amazing experience!