The ingenious way a man bravely helps primary school pupils cross a flooded river by carrying them in a plastic bag has been captured on newly released video.
When floods around Sam Lang village, Dien Bien Province, near Hanoi in northern Vietnam, blocked children's route to school, rather than use it as an excuse for a day off, they devised an ingenious method for getting to the other side without getting wet.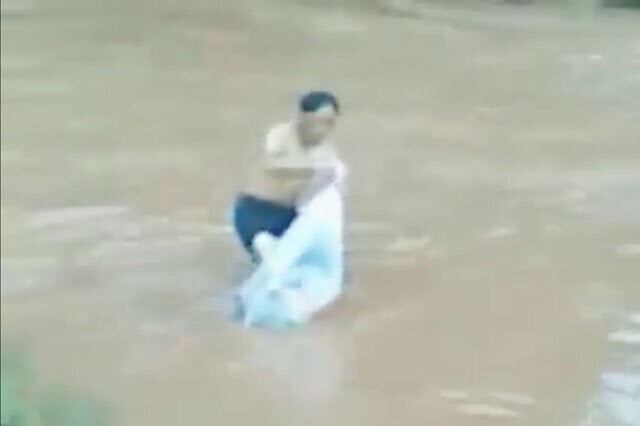 In this incredible clip, filmed by teacher Tong Thi Minh, a man can be seen carefully wrapping each child in a plastic bag, before launching himself neck deep into the raging torrent.
Holding the bag in one hand, he uses his other hand to propel himself across the water, despite the powerful currents.
Once at the other side the perfectly dry child is unwrapped by the man, before he swims back to collect the next pupil.
"It's normal," Miss Minh told local newspaper Tuoi Tre News. "That's the only way to cross the stream because no bridge can stand flood water.
"I've taught here since September last year. At first, I did not know how to ford the stream so I had to follow what local villagers did later."
In the clip filmed last year, female teachers and students were seen waiting for their turn to traverse the Nam Po stream.
According to Miss Minh, it is not unusual to see intrepid parents bringing their children to school in this manner when the area is flooded, as the bridge that crosses the river is always disassembled during flooding periods.