Easter wouldn't be Easter without lamb so here are three recipes to cater for all your family's tastes over the holiday weekend: smoky, spicy Asian lamb cutlets for the adventurous cook; light Parmesan-crusted fillet with a crisp salad should the weather decide to behave itself; and a more traditional Sunday roast lamb, with a twist.
All these recipes have been tried and tested on my wife and three children and they went down a treat. Hope you enjoy them.
ASIAN-SPICED LAMB CUTLETS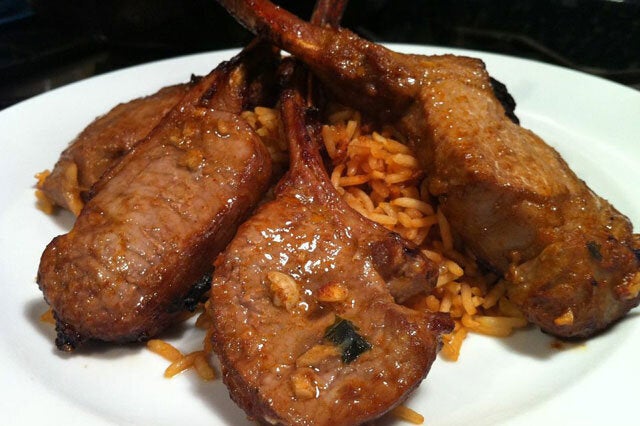 Serves 2-4 8 lamb cutlets, super-trimmed of all excess fat
1 sachet miso soup paste (available from supermarkets)
2 tbsp Shaosing rice wine
A little oil, for brushing
1. Put the lamb and all the marinade ingredients into a bowl or freezer bag to marinate. Put in the fridge for 2 hours or overnight.
2. When you're ready to cook, preheat a grill to high. Shake any excess marinade off the lamb cutlets and transfer to a foil-lined grill pan.
3. Brush the cutlets with a little oil and grill the cutlets for approx. 4-5 mins each side, depending on how pink you like them. This time will cook to medium.
4. Serve with salad, couscous or fried rice.
PARMESAN-CRUSTED FILLET OF LAMB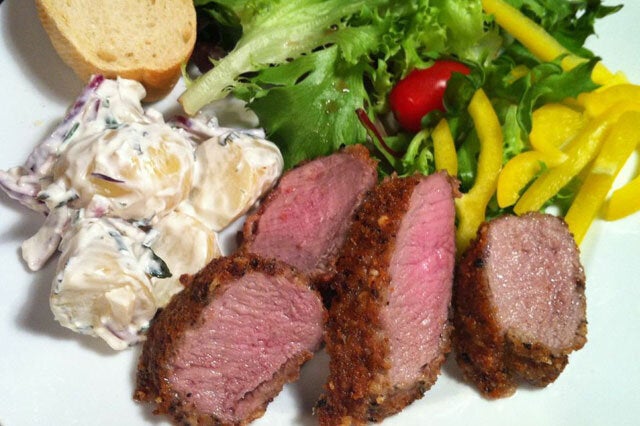 I love a rack of lamb, but sometimes it can seem like there's more bone and fat than meat. This recipe gives you pure meat - essentially the fillet of the lamb, otherwise known as cannon. It is a glorious cut that you can get from your butcher or you can cut your own as I've done here.
Just take a rack of lamb and with a very sharp knife, trim it of bone, fat and sinew until your left with a wonderful barrel of meaty loveliness.
To make the crust, simply whizz Parmesan, breadcrumbs, thyme, salt and pepper together in a food processor. Dead easy!
This goes brilliantly with potato salad and green salad with raw sliced peppers.
1 rack of lamb, comprising 8 cutlets
1 tsp dried or fresh thyme
Salt and freshly ground black pepper
1. Trim the lamb meat of its bone, sinew and fat (or buy a ready-butchered lamb fillet from the supermarket).
2. Put all the ingredients for the crust into a food processor and whiz into fine crumbs.
3. Toss the lamb in the flour, then douse in the beaten egg. Now roll in the Parmesan breadcrumbs and press down so that the cannon is completely coated.
4. Preheat the oven to 180C. In a large frying pan, heat the oil to medium, then cook the lamb on all sides until golden brown, taking care not to burn. Transfer to an oven-proof dish or pan and put in the oven for 10-12 mins. You want to serve it slightly pink.
5. Remove and rest for 5 mins before carving into thick slices and serving with potato salad and green salad.
ROAST LAMB WITH ANCHOVIES, GARLIC, ROSEMARY AND LEMON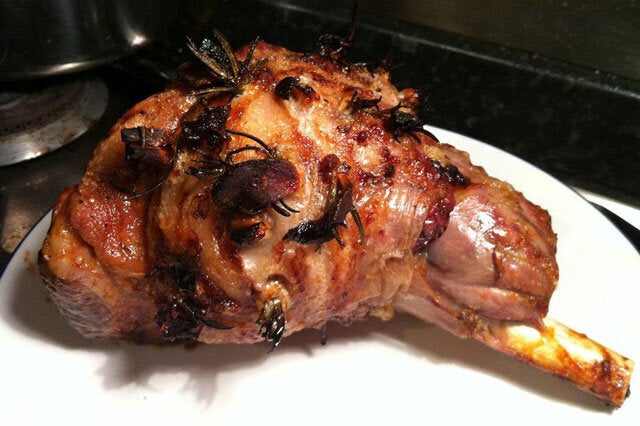 This is a classic Easter feast to get all your family around the table. Serve it with sweet potato Dauphinoise.
Leg of lamb, weighing 1.2kg
4 garlic cloves, finely sliced
Leaves from 1 branch of fresh rosemary
6-8 anchovies, from a tin
Salt and freshly ground black pepper
For the sweet potato Dauphinoise
3 garlic cloves, crushed and chopped
1 tsp freshly grated nutmeg
1. Prepare the lamb by using a very sharp knife to make about 20 incisions all over the skin, probing deep through the fat and into the flesh. Using your fingers, insert a piece of garlic, a piece of lemon peel, half an anchovy and a few rosemary leaves. Rub all over with olive oil, then season with plenty of salt and pepper.
2. Transfer the lamb to a roasting tin. Preheat the oven to 200C/Gas 6 and roast for 20 mins, before turning the oven down to 180C/Gas 4 and cooking for a further 40 mins. At the end of the cooking time, remove from the oven, take the lamb out of the roasting tin and transfer to a plate. Cover with tin foil to keep it warm while it rests for 20 mins.
3. While the lamb is cooking, prepare the Dauphinoise by bringing a large pan of water to the boil. Peel the potato and sweet potato and cut into quarters. Boil in the water for around 7-9 mins, until tender, but not falling apart. Remove and cool.
4. Once cool, finely slice the potato/sweet potato chunks, then in a shallow baking dish, layer alternate slices to create an attractive pattern! After the first layer, sprinkle over the garlic and season with salt and pepper. Add another layer of alternating slices, then pour on the cream. Finish by sprinkling over the grated nutmeg and season with salt and pepper.
5. To serve, carve the lamb into thick slices. Spoon out a slice of the Dauphinoise and serve alongside hearty greens (such as curly kale).
You can make a delicious gravy by draining the fat from the bottom of the tin the lamb roasted in, deglazing with red wine, adding vegetable stock form the greens, and whisking in a teaspoon of cranberry sauce from a jar.