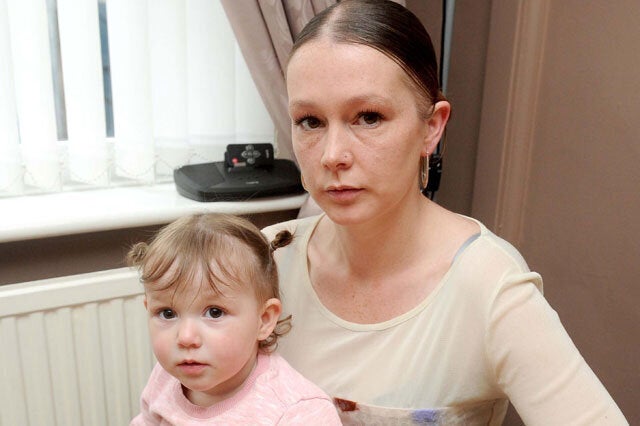 A toddler nearly choked to death when a safety chain fitted to a fairground ride wrapped around her neck.
Kyla McMillan, 15 months, from Hulme, Manchester, was at the Manchester Easter Fair in Rushmore with her mum Stephanie, 31, dad Gareth, 33, and siblings Kade, nine, and Che, three, when the accident happened.
Kyla was sitting on a swing seat as it spun around when she lost her grip and slipped from her seat. A safety chain then caught around her neck, preventing her from falling from the ride.
The little girl turned red and was coughing and spluttering heavily. She was held around the neck by the safety chain until she was rescued by her father and another man.
Stephanie was assured that Kyla - at two feet tall - was big enough to safely use the ride, which spins around for several minutes while passengers are secured in place by a piece of chain around their waists.
Stephanie told reporters: "She was sat on the swing for a couple of minutes when disaster struck. The chain wrapped fully around her neck and she started to choke.
"Her face was turning red, she was coughing and spluttering, and she started to panic. Kyla's dad and another dad ran over to her and managed to free her. I couldn't see her and that's the worst thing for a mother, never knowing if your child is OK.
"I knew she was too small for the ride but I was convinced otherwise. I should have trusted my instincts because mums know best. It was a nasty incident and I just hope the people responsible learn from this because I wouldn't want it to happen to anyone else."
The family reported the incident to Carousel Fun Fairs, which was running the three week Easter event.
Safety manager Kevin Barrell said: "When I spoke to the father of the child I explained about the chain being there for safety reasons and the child was fine. They did say the child was restless when on the ride and she tried to get out.
"I offered them a refund which they took and they carried on riding on the fair and seemed happy to do so."
Manager Krystle Hart added: "The ride in question is a traditional children's carousel that has been operating on fun fairs for hundreds of years.
"All our rides are approved by the Health and Safety Executive and are annually tested by the Amusement Device Inspection Procedure Scheme.
"The chain on the ride is for safety reasons and it did what it was meant to do and stopped the child from falling."
Stephanie says her family left the fairground following the incident.
"The way they handled it was disgusting," Stephanie
. "To give us £6.99 back when she was almost killed is a joke."