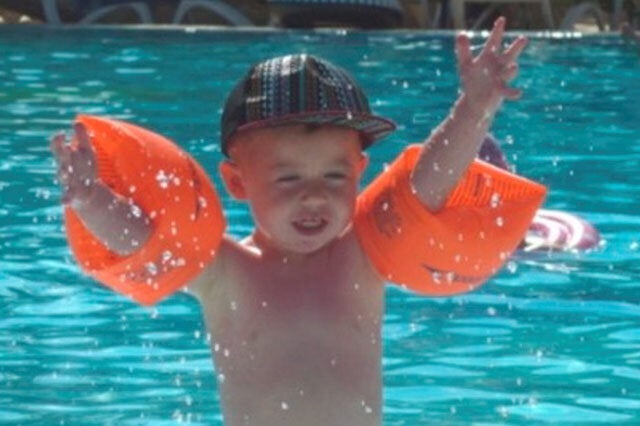 A toddler drowned after he followed his unsuspecting dad into a hotel swimming pool on holiday in Tunisia.
Gavin Aspinall told an inquest that he left two-year-old Loui next to his mum Emma Hollingsworth.
But she didn't heard him when he said he was going back into the water with his six-year-old daughter.
And neither parent realised Loui, who was not wearing armbands, followed his dad 10 seconds later.
Dad Gavin told Bolton Coroner's Court: "Normally, Loui would have had his armbands on and a rubber ring but you have to get properly dressed to go to lunch so he didn't have them on.
"He wouldn't wee in the shallow part of the pool because he said he's a big boy now so I took him into the pool. When I brought him back out I put him down near his mum, where the water was only about an inch deep.
"His sister had wanted to swim up to this bridge over the pool so we went back into the water and I left Loui.
"Where I'd put him he was about three feet away from his mum but he was out of her view.
"She was facing the opposite way because she was talking to some people we'd made friends with while on holiday.
"I said I was going back into the water but she hadn't heard me."
CCTV footage showed there was a seven-minute delay before Loui, from Wigan, Greater Manchester, was found.
No lifeguards were on duty at the time at Houda Golf and Beach Resort in Tunisia and there was no first aid kit by the pool.
Coroner Alan Walsh concluded that Loui died as a result of a tragic accident after walking alone into the pool at the resort.
He said: "No one noticed Loui enter the pool and seven minutes passed before two little boys noticed him and thought he was doing handstands.
"They drew the attention of David Ray who pulled Loui from the pool and attempts were made to resuscitate him but sadly Loui died."
Loui's family have launched a petition calling for fully trained lifeguards to be on duty at all times and to have medical equipment – including defibrillators and oxygen – at all holiday resort pools and public pools in the UK and abroad.