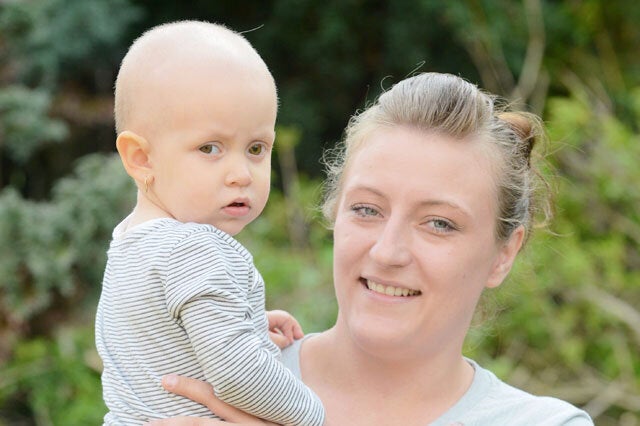 A toddler lost her eye after doctors thought an allergy to her hamster was causing it to be bloodshot.
In fact, Dominique Dowson had cancer – which wasn't diagnosed until 12 months after her mum Lauren first took her to her GP when she was eight weeks told.
Dominique, now 19 months, had to have her left eye removed to try and stop the cancer from spreading to her brain, where it would have killed her.
Lauren, 23, took her baby to the GP because her eye was weeping and blood-shot. The doctor suspected her condition was caused by an allergy, possibly to the family's pet hamster, so her mum gave the animal away.
Lauren, from Hexham, Northumberland said: "Her eye would weep and water and was often bloodshot, I took her back and forward to the health centre from eight weeks old but they had me down as an overprotective mother.
"I was devastated. I found out that she was blind in her left eye on the Friday and on the Monday that she had cancer.
"They told me it could travel from her eye to her brain. Her whole eye was removed and replaced with a prosthetic one. I felt like my heart had been ripped out.
"I am angry - if they had spotted it at eight weeks old she could still have her eye, maybe not her full sight but she might still have her eye. It is heart-breaking."
Dominique's eye was removed in a three-hour operation after the cancer – called retinoblastoma - had spread more than four inches down her optic nerve.
She has had six rounds of chemotherapy plus laser surgery and now faces months of treatment at Birmingham Children's Hospital.
A spokeswoman for the GPs' practice - Burn Brae Medical Group in Hexham - told The Sun: "We're sorry to hear about the experience that Lauren Dodd and her daughter have gone through but we are unable to comment due to patient confidentiality."