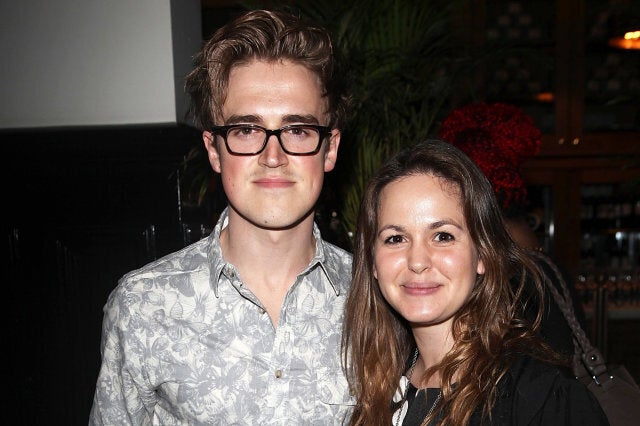 McFly frontman Tom Fletcher and his wife Giovanna have announced the birth of their son, Buzz, on Twitter, telling fans they are 'in love' with the new arrival.
Tom is well known for his love of Twitter, so it came as a surprise when his account suddenly went quiet yesterday - but the singer had a good excuse, as he explained this morning:
New mum Giovanna, sister of TOWIE star Mario Falcone, was soon on hand to provide more detail, tweeting:
THRILLED to announce the safe arrival of our little BOY! Born last night at 7pm. I can't stop staring at and kissing him! I'm in love!💙👶 Xxx

- Giovanna Fletcher (@MrsGiFletcher) March 14, 2014
Tom soon proved that even though he is now busy being a hands-on dad, he has no intention of breaking his long-established tradition of over-sharing with his Twitter followers, posting this TMI gem:
The hashtag #BabyFletcher quickly became a trending topic on Twitter as well-wishers flooded the site with messages of congratulation for Tom and Giovanna.
It wasn't long before Tom gave in to fans' demands to reveal his son's name. He Tweeted,
"For those asking, our son's name is Buzz Michelangelo Fletcher."
We're guessing the choice of middle names was inspired by Tom's artistic talents, but it's not yet known whether the first name is a tribute to a favourite astronaut or Toy Story character.
Either way the reaction to Tom's announcement was so strong, it prompted him to Tweet:
Tom and Giovanna first met as teenagers at the famous Sylvia Young Theatre School where they were both students, and were married in May 2012. The as-yet-unnamed little boy is their first child together.
Last month, the McBusted guitarist shared an adorable video of his attempts to create the perfect nursery for the new baby, decorating the walls with a hand-painted mural of Mickey and Minnie Mouse.
During an appearance on The Jonathan Ross Show, Tom confessed: "It's the first baby. We don't know what we're doing yet, we're just going to make it up as we go along."
But help was at hand in the form of McBusted bandmate, Matt Willis. "Matt's got kids so I'm taking 'dadvice," he explained.