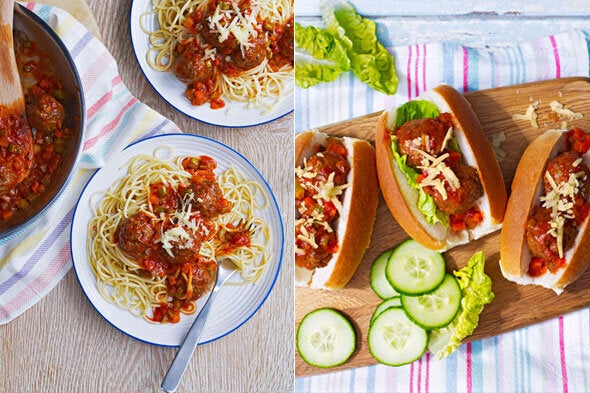 It's ever so easy to make these tasty meatballs from tender beef mince flavoured with herbs. Serve them with a mixed vegetable tomato sauce and spaghetti for dinner and save some for sloppy Joe sandwiches for lunch the following day.
This recipe will make 20 meatballs. Use 12 for dinner (or three meatballs per person) and use the remaining ones for lunch the next day. Serve them warm in white finger rolls with lettuce and cucumber. Top with grated cheddar for delicious Sloppy Joes.
Serves: 4 (plus leftovers for Sloppy Joes for lunch the folllowing day)
750g pack extra lean beef steak mince
1 teaspoon dried mixed herbs
2 cloves garlic, finely chopped
700g jar tomato and herb pasta sauce
6 medium carrots, chopped
30g mild British Cheddar, finely grated
1. In a large mixing bowl, mix together the mince, mixed herbs and garlic until combined. Season with freshly ground black pepper then, using your hands, shape the mixture into 12 balls.
2. Heat the oil in a large frying pan over a medium heat. Add the meatballs and cook for 10 minutes, turning regularly, until golden all over.
3. Drain off any excess liquid from the pan, then pour in the pasta sauce. Bring to a gentle simmer and cook for 10 minutes. If the sauce is a little thick, add a few tablespoons of boiling water.
4. While the sauce is simmering, bring a medium pan of water to the boil, add the carrots and cook for seven minutes until tender, adding the celery to the pan for the final four minutes of cooking time. Drain then stir into the pan with the meatballs.
5. Meanwhile, fill another large pan with water and bring to the boil. Add the spaghetti and cook until tender. Drain.
6. Divide the spaghetti between bowls, top with the meatballs and tomato sauce, and serve scattered with the Cheddar.