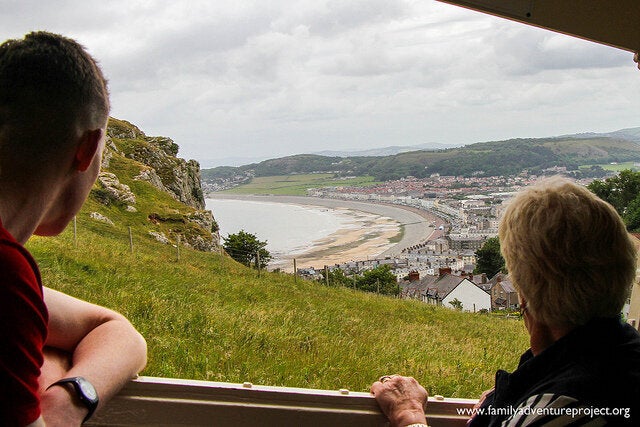 The British seaside has been busy reinventing itself with the help of commercial investments, boutique hotels and (fingers crossed!) sunshine.
But what about in winter or when the rain is pounding down? Here are our top 10 beach resorts that are just as fun when the weather's grim.
In summer Blackpool may be full of stags and hens, sugar coated food and screaming roller coasters. But as autumn sets in, brash and wild becomes brisk and mild on a fairy-lit promenade. If the weather's bad you can explore the watery depths of Sandcastle Waterpark and Sea Life Aquarium. You can see if you'd make the Strictly Come Dancing grade by waltzing around the ballroom at Blackpool Tower where the crimson and gold circus and the comedy carpet outside also bring a smile. If you prefer misery then do the Dungeon. Save on multiple attractions with a Resort Pass.
Llandudno is all about Victorian charm. And Britain's only working funicular tramway - up the Great Orme- is a real trip back in time. The bus around the bay is vintage and an Alice in Wonderland trail takes you directly back to your childhood. But it also has some modern thrills. Whilst on the Orme we strapped on skis and flew down the hillside before blasting over a quarry on the fastest zip wire in the Northern Hemisphere at Zipworld in nearby Bethesda.
Seven golden miles of beach make Bournemouth worth visiting whatever the weather. But if it's bleak you can always rent a beach hut and snuggle up till the weather changes. Some of the huts are luxury, but most come with a minimum of stove and deck chair. You can actually rent the oldest beach hut in Britain, installed in 1909, at a time when putting on your Speedos just couldn't be done in public.
One of the most atmospheric experiences you can have on the British coast is standing amongst the artist Anthony Gormley's replicas on Crosby Beach. They change with the tide. They change with the weather. And they change with the years. Each time I have visited 'Another Place' those eerie statues have drawn me into their silent world. Crosby is a short hop from Liverpool, so you can combine a visit with a weekend break in the city.
For an overview of the area's beaches walk the Pembrokeshire Coast Path; a treasure trail of limestone cliffs, sandstone bays, deep valleys and pretty villages. But if you have teenagers you might prefer to descend to the beach and ride some of the best surf in Wales.
This Cornish town north of Penzance boasts The Tate and the Barbara Hepworth Museum and Sculpture Garden. It has a nursery rhyme named after it. It has beaches made for sandcastles. The Eden Project is less than an hour's drive, with Paradise Park, the National Seal Sanctuary and Geevor Tin Mine even closer. Oh, and this is Cornwall so it has pasties. What more do you want?
Although you're in Devon, the palm trees make you feel like you're in LA (if you shut your eyes and squint a little) and the beaches are world class. If there ever was a typical Great British seaside then this sandy jewel on the 'English Riviera' would qualify. Young detectives can do the Agatha Christie mile, although you may have to explain to them who she was!
As yet another Dracula remake (this time by Universal Pictures) enters post production for the big screen, you can visit scenes populated by the legendary character in the original novel. But while Dracula wasn't big on family fun, you can relax and enjoy this beautiful Yorkshire beach resort. Start by taking a hike up nearly 200 stone steps for a heady cliff top walk. The stunning Robin Hood's Bay five miles south of Whitby is also worth a visit.
Talking of cliffs, stand under the white ones made famous by the song and you'll be blown away by their beauty. Not literally, although if you fancy some adrenaline you could always go wind surfing in the harbour. Or you can sit on the beach and watch the legions of swimmers training for their cross channel challenge. Be brave and take a wintery dip yourself? You are at the seaside after all.
This Lancashire resort doesn't make a lot of top 10 lists but it's one to watch as it's slowly smartening up its act. One of its most famous sons; style guru Wayne Hemingway occasionally lends a hand with events and The Midland Hotel has been refurbished to its former art deco glory. The long promenade is perfect for family bike rides, with a stop for pictures with 'Eric.' And on a good day you get a great view of the English Lakes.