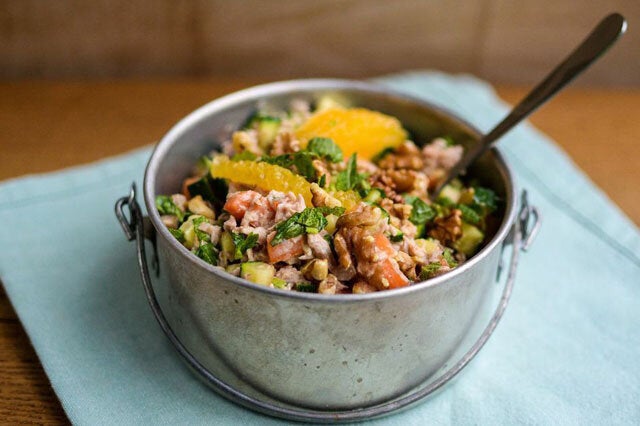 Tuna, carrot and courgette salad recipe
by
Nick Coffer, My Daddy Cooks
This is a lovely little salad for a lunch box. It is full of good stuff and rich in gentle flavours - and it's ideal for a summer barbecue too. If you want it to go further, serve it with some lettuce leaves or noodles tossed in a little oil.
Prep time:10 minutes
Cook time: 10 minutes
Makes:
4 lunchbox serving
2 carrots, cut into 5mm cubes
2 courgettes, cut into 5mm cubes
160–180g tin tuna, drained
A large handful of finely chopped flat-leaf parsley
1 orange, cut into segments (see below)
A few crumbled nuts (I like walnuts but any nuts work well)
2 tablespoons plain yoghurt
A pinch of sugar or ½ teaspoon honey
1 teaspoon walnut, hazelnut or olive oil
Salt and freshly ground black pepper
1. Heat a good drizzle of olive oil in a pan on a medium heat. Fry the carrots for three minutes then add the courgettes. Continue cooking until they have softened slightly but still have a good firm bite, then transfer them to a bowl.
2. Flake over the tuna and stir in the chopped parsley and orange segments.
3. Mix together the dressing ingredients, adding the nut oil if you have any, or a little olive oil if you don't. If the dressing seems very thick, you can thin it slightly with a little water.
4. Pour the dressing over the salad and toss well together.
5. Serve with a few crumbled nuts on top and some chopped fresh mint.
To remove the orange segments from the pithy membrane:
Cut a small chunk off the top and bottom of the orange. Stand it on a chopping board and peel it by gently slicing downwards using a sharp knife or a knife with a serrated edge. Then cut the orange segments away from the pith.
This is easily done by sliding the knife into one of the segments, just inside the pith membrane. From the bottom of the segment, you can then almost peel the orange away from the pith on the other side of the segment using your knife. Repeat for the whole orange.
The After School Cookbook by Nick Coffer: 120 quick, easy and affordable recipes for your hungry kids (Hodder & Stoughton) is out now, paperback and eBook, £16.99.