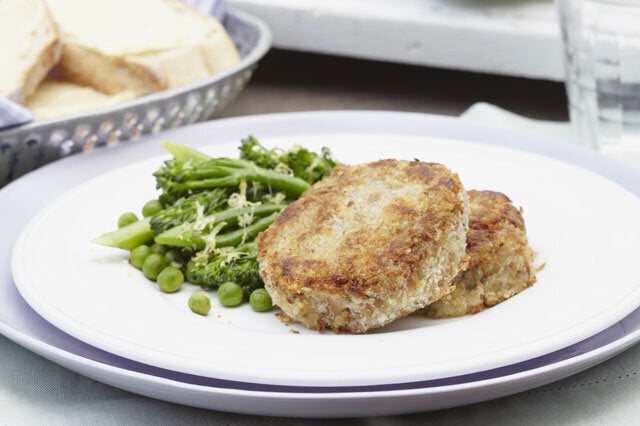 Tasty tuna fishcakes with warm summer vegetable salad, b

y

Jo Pratt
"Fish cakes have long been a family favourite but this fancy version isn't just easy and fun to prepare with the kids, it tastes amazing too," says Madhouse Cookbook author and mum-of-two Jo Pratt. "What's more, fish cakes are great for batch cooking as you can make a few and pop them in the freezer for another day."
Top Tip: Hot smoked salmon, mackerel or tinned salmon are all suitable to use as an alternative to tuna. Other herbs can also be used such as parsley, tarragon or dill.
400g cooked mash potato, chilled
2 x 160g cans tuna in springwater
125g fresh or frozen peas
150g Tenderstem broccoli, cut into bite-sized pieces
1. Put the mash in a large bowl, drain the tuna and flake. Add the chives and lemon zest.
2. Gently bind everything together and shape the mixture into four large or eight smaller fish cakes. Sprinkle the panko breadcrumbs on a plate or shallow dish and coat the surface of each fish cake, pressing lightly so they stick.
3. Place a large frying pan over a medium-high heat and add the Gold from Flora. Fry the fishcakes for five minutes each side (or more if large), until they are golden.
4. Meanwhile, cook the green vegetables in boiling water or in a steamer until they are just tender. Transfer to a bowl and while they are still steaming hot add the Gold from Flora, lemon juice and chopped mint. Gently toss together. Season to taste with a little salt and freshly ground black pepper.
5. When cooked, serve the crispy tuna fishcakes with the warm summer vegetable salad and a crusty baguette.